2013 Frankfurt International Motor Show: Ferrari 458 Speciale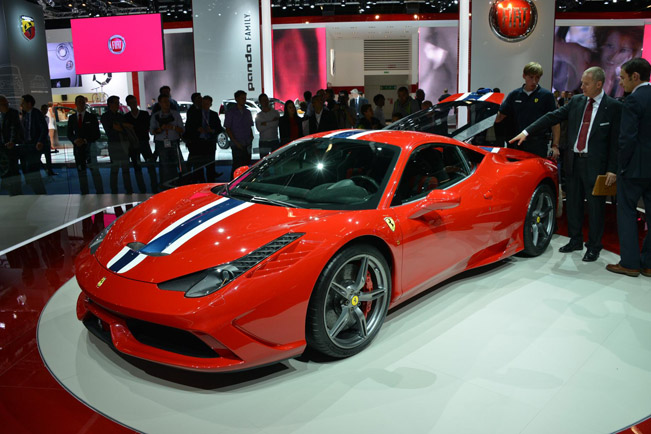 Ferrari 458 Speciale is currently exhibited at the 2013 Frankfurt Motor Show. The special edition is the designed to be the ultimate sports car like Challenge Stradale and 430 Scuderia. The 458 Speciale is lighter, faster and more aggressive than ever.
The 4.5 liter naturally aspirated V8 now has 605HP (445 kW) and 540Nm (398 lb-ft) of torque, which is an increase of 35HP. It is connected to an improved dual-clutch gearbox. 0-100 km/h in 2.9 seconds and a top speed of over 330 km/h (205 mph). The curb weight is just 1,290kg (2844 lb), which 90kg less than the normal model. The power-to-weight ratio is fantastic - 2.13 kg/hp. The 458 Speciale can lap the Fiorano circuit in just 1 minute and 23.5 seconds.
Other highlights include an exclusive Side Slip Angle Control system, F1-Trac traction control and the E-Diff electronic differential. There are also complete aerodynamics package, stripped interior, high-performance Brembo brake system and ultra-lightweight wheels fitted with Michelin Pilot Sport Cup2 tires.
458 Speciale Technical Specifications
Type V8, 90° - Direct Injection - Dry Sump Bore and stroke 94 x 81 mm (3.7 x 3.2 in) Overall displacement 4497 cm3 (274.4 cu in) Compression ratio 14.0:1 Maximum power** 445 kW (605 cv) at 9000 rpm Specific power output 135 CV/l (1.62 kW/cu in) Maximum torque 540 Nm (398 lb ft) at 6000 rpm Maximum revs (limiter) 9000 rpm
Length 4571 mm (180.0 in) Width 1951 mm (76.8 in) Height 1203 mm (47.4 in) Wheelbase 2650 mm (104.3 in) Front track 1679 mm (66.1 in) Rear track 1632 mm (64.3 in) Dry weight* 1290 kgf (2844 lb) Kerb weight* 1395 kgf (3075 lb) Weight distribution 42% front, 58% rear Weight/power ratio 2.13 kg/cv Fuel tank capacity 86 l (22.7 US gallon)
Front 245/35 ZR20 J 9 Rear 305/30 ZR20 J 11
Carbon-ceramic (CCM3) braking system
Front 398x223x36 mm (15.7 x 8.8 x 1.4 in) Rear 360x233x32 mm (14.2 x 9.2 x 1.3 in)
Electronic control systems
ESC Stability control High performance ABS/EBD High performance anti-lock braking system/electronic brake force distribution F1-Trac F1 traction control E-Diff 3 Third generation electronic differential
SSC Side slip angle control Frs SCM-E Magnetorheological suspension control with frequency analysis system and twin solenoids
7-speed F1 dual-clutch transmission
Maximum speed >325 km/h (>202 mph) 0-100 km/h (0-62 mph) 3.0 sec 0-200 km/h (0-124 mph) 9.1 sec 0-400m (0-437 yd) 10.7 sec 0-1000m (0-1093 yd) 19.35 sec 100 - 0 km/h (62 – 0 mph) 31 m (101.7 ft) Weight/power ratio 2.13 kg/cv Fiorano lap time 1'23''5
Fuel consumption and emissions (ECE + EUDC combined cycle)
Fuel consumption*** 11.8 l/100 km CO2 emissions*** 275 gr/km
*With optional equipment **Including 3.7 kW by ram effect *** Combined cycle with HELE system (ECE+EUDC)
Source: Ferrari