2013 Renault Scenic XMOD - UK Price £17,955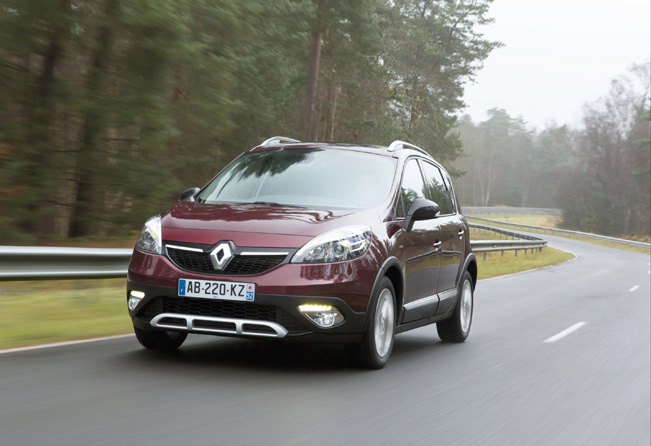 Renault UK has announced the pricing of the Scenic facelift range and the new Scenic XMOD. The prices start from just £17,955, with XMOD aggressively priced at the same as the equivalent standard Scenic, in spite of its enhanced looks and higher equipment level.
Together with the facelifted 5-seat Scenic and 7-seat Grand Scenic, which each now feature the company's new design identity, as seen on each of its latest arrivals, Twingo, Clio, Captur and ZOE, Renault is looking to cover every base in the hotly contested C-segment.
The exterior of Scenic comes with bigger logo at the front set against a gloss black background that emphasises the new grille. Elegant lines and high-quality materials also help to enhance the MPV's dynamic, family-oriented feel.
The crossover-inspired Scenic XMOD, starting from £17,955, comes in two well-equipped trim levels, Expression+ and Dynamique TomTom. The revised Scénic and Grand Scénics in Dynamique TomTom trim, starting from £19,155 and £20,355 respectively.
The new XMOD comes with a high level of specification. Even from the entry Expression+: it includes 16" 'Tundra' alloys or 'Frontier' design wheels with Grip Xtend and mud and snow tyres, Hill Start Assist. Moving up to Dynamique TomTom adds dual zone climate control, auto lights and wipers and Carminat TomTom 'Live' satellite navigation
Scenic and Grand Scenic Dynamique TomTom are equally well specified too. Among its core features are 16" alloy wheels, dual zone climate control, Carminat TomTom 'Live' satellite navigation and rear parking sensors.
The engine range includes three petrol: 1.6 VVT 110, 1.2 TCe 115 Stop & Start and 1.2 TCe 130 Stop & Start and two diesel: 1.5 dCi 110 Stop & Start & 1.6 dCi 130 Stop & Start.
Also new for the new-look Scénic range are two colours, Saffron Yellow on XMOD and Dune on all three.
Full UK pricing for the new Scénic range is outlined below for each of the three models.
XMOD
| | | | | | |
| --- | --- | --- | --- | --- | --- |
| Version | Engine | Combined mpg | BIK | Ins. Group | On-the-road price |
| Expression+ | 1.6 VVT 110 | 36.7 | 27% | 19E | £17,955 |
| | 1.5 dCi 110 | 61.4 | 19% | 19E | £19,745 |
| Dynamique TomTom | 1.6 VVT 110 | 36.7 | 27% | 19E | £19,155 |
| | 1.2 TCe 115 S&S | 46.3 | 20% | 18E | £20,250 |
| | 1.5 dCi 110 S&S | 68.9 | 16% | 19E | £21,095 |
| | 1.5 dCi 110 EDC | 60.1 | 19% | 19E | £22,195 |
| | 1.6 dCi 130 S&S | 64.2 | 17% | 24E | £22,195 |
| (including BOSE+ Pack) | 1.2 TCe 130 S&S | 44.1 | 21% | 20E | £22,100 |
Scenic
| | | | | | |
| --- | --- | --- | --- | --- | --- |
| Version | Engine | Combined mpg | BIK | Ins. Group | On-the-road price |
| Dynamique TomTom | 1.6 VVT 110 | 38.2 | 26% | 19E | £19,155 |
| | 1.2 TCe 115 S&S | 47.9 | 19% | 18E | £20,250 |
| | 1.2 TCe 130 S&S | 45.6 | 20% | 20E | £20,600 |
| | 1.5 dCi 110 S&S | 68.9 | 16% | 19E | £21,095 |
| | 1.5 dCi 110 EDC | 60.1 | 19% | 19E | £22,195 |
| | 1.6 dCi 130 S&S | 64.2 | 17% | 23E | £22,195 |
Grand Scenic
| | | | | | |
| --- | --- | --- | --- | --- | --- |
| Version | Engine | Combined mpg | BIK | Ins. Group | On-the-road price |
| Dynamique TomTom | 1.6 VVT 110 | 36.7 | 27% | 19E | £20,355 |
| | 1.2 TCe 115 S&S | 46.3 | 20% | 19E | £21,450 |
| | 1.2 TCe 130 S&S | 44.1 | 21% | 20E | £21,800 |
| | 1.5 dCi 110 S&S | 68.9 | 16% | 19E | £22,295 |
| | 1.5 dCi 110 EDC | 60.1 | 19% | 19E | £23,395 |
| | 1.6 dCi 130 S&S | 64.2 | 17% | 24E | £23,395 |
Source: Renault