2013 Volkswagen Golf 4Motion – World's most fuel-efficient 4WD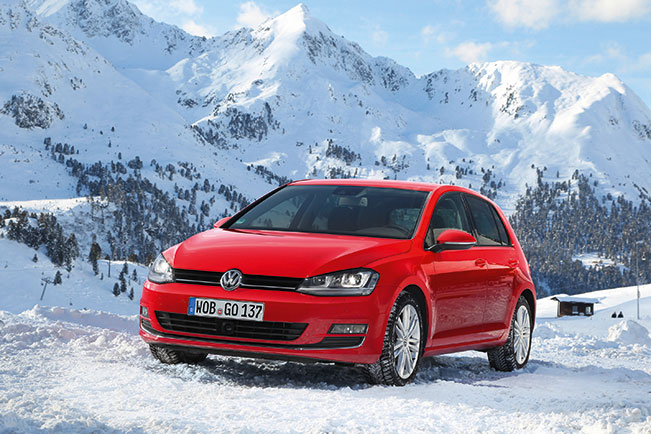 Volkswagen has introduced a new 2013 Golf VII 4Motion. The hatchback comes with permanent four-wheel drive system, which is one of the most modern and efficient of its kind in the world.
In this latest version of the Golf 4MOTION Volkswagen is using a four-wheel drive system with an enhanced, fifth-generation Haldex coupling. The intelligently controlled 4MOTION drive weighs 1.4 kg less than the previous system, requires no pressure accumulator and reacts extremely quickly to every conceivable influence exerted on it. The result is greater active safety and improved handling.
The new 2013 Golf 4Motion is available in three levels of specification (Trendline, Comfortline, Highline) and with two turbo diesel engines that provide both high torque and great fuel efficiency.
The 1.6 liter diesel with 105HP (77 kW) needs just 4.5 litres per 100 km and the powerful 2.0 liter TDI with 150HP (110 kW) will consume 4.7 liters / 100 km. This is 15% lower fuel consumption than the old versions of Golf 4Motion.
Standard equipment includes Stop/Start system and battery regeneration. Also included as standard even on the base version (Trendline) are features such as the four-wheel EDS (electronic differential locks on both axles), the XDS front and rear axle transverse lock, the electronic stabilisation programme, an Automatic Post-Collision Braking System, 7 airbags, DRLs, AC, electric windows front and back, a multi-function display (on-board computer) and a TFT display with touchscreen operation.
The premium payable for the permanent four-wheel drive system on the Golf 4MOTION – sold fundamentally as a four-door vehicle – is €1,800 in Germany.
Source: Volkswagen