2014 Fiat Punto - Price £9950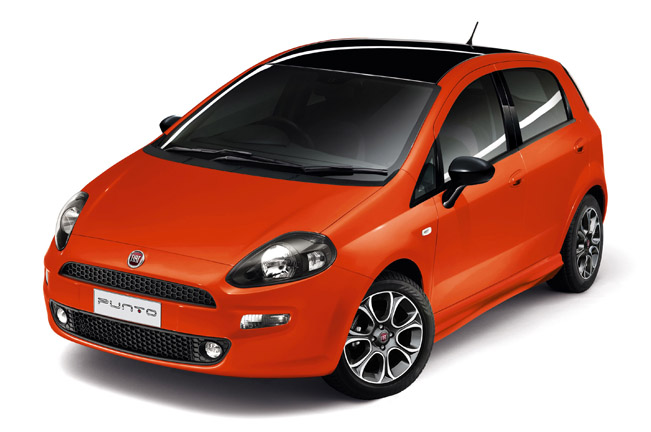 Fiat has announced an updated price list and additional equipment for its popular and stylish Punto supermini. The range provides customers with outstanding value for money.
Available with either three or five doors and with a choice of 5 low emission Euro 5 engines, Fiat's  Punto now comes with a revised line-up of 4 main trim levels, Pop, Easy, GBT and the new Sporting.
The engine line up includes: a 1.2 liter 8V petrol – 69HP, a 1.4 liter 8V petrol – 77HP, a 1.4 liter 8V petrol – 77HP Dualogic, a 1.4 liter 16V MultiAir petrol – 105HP, a TwinAir 0.9-litre petrol – 85HP and a 1.3 liter 16V MultiJet diesel – 85HP.
Standard equipment in the entry-level Pop model includes remote central locking, electric front windows, driver and passenger airbags, window airbags, radio/CD/MP3 player, Dualdrive electric power steering and a height-adjustable driver's seat.
This specification has been further enhanced with a new dashboard with diamond embossing which is now aligned to the rest of the range, colour-coded door handles and door mirrors and the addition of a driver's knee airbag as standard.
Both Easy and GBT trim levels have also been enhanced with upgraded, sculpted, black Castiglio fabric seats, the addition of front fog lights with cornering function, dashboard and door ambient lighting and side airbags as standard.
The GBT trim level now also sports 16" 7- spoke 2-tone Sportline alloy wheels, replacing the previous 15" Sportline alloy wheels.
The new exciting Sporting trim level joins the Punto range, building on the success of the GBT, while reinforcing Punto's sporty credentials.
The new Sporting has a dramatic appearance and features a number of stylish enhancements both to the interior and exterior which make it instantly recognisable and likely to appeal to a younger audience.
Standard equipment on the Sporting trim level includes body coloured rear spoiler and side skirts, gloss black painted roof, sports suspension, gloss black electrically adjustable heated door mirrors, 'Tarmac finish' dashboard, black interior roof lining, sports leather steering wheel, leather gear knob and handbrake lever, specific 'Sporting' dark headlamps, front fog lights with cornering function, dark tinted privacy glass, chrome exhaust tailpipe and 16" 7- spoke 2-tone black Sportline alloy wheels.
On the road pricing for the range is as follows:
Model
Total OTR (£)
POP 1.2 8v 69hp 3-dr (no S&S)
£9950.00
POP 1.2 8v 69 hp 5-dr (no S&S)
10,550.00
EASY 1.3 MultiJet 85hp 3-dr
13,450.00
EASY 1.4 8v 77hp 3-dr
11,335.00
EASY 1.4 MultiAir 16v 105hp 3-dr
12,355.00
EASY 1.4 8v 77hp Dualogic 3-dr
11,850.00
EASY 1.2 8v 69hp 3-dr (no S&S)
10,950.00
EASY 0.9 TwinAir 85hp 3dr
12,150.00
EASY 1.3 MultiJet 85hp 5-dr
14,050.00
EASY 1.4 8v 77hp 5-dr
11,955.00
EASY 1.4 MultiAir 16V 105hp 3-dr
12,955.00
EASY 1.4 8v 77hp Dualogic 5-dr
12,450.00
EASY 1.2 8v 69hp 5-dr (no S&S)
11,550.00
EASY 0.9 TwinAir 85hp 5dr
12,750.00
GBT 1.3 MultiJet 85hp 3-dr
13,950.00
GBT 1.4 8v 77hp 3-dr
11,855.00
GBT 1.4 MultiAir 16V 105hp 3-dr
12,855.00
GBT 1.2 8V 69hp 3–dr (no S&S)
11,450.00
GBT 0.9 TwinAir 85hp 3-dr
12,650.00
GBT 1.3 MultiJet 85hp 5-dr
14,550.00
GBT 1.4 8v 77hp 5-dr
12,455.00
GBT 1.4 MultiAir 16V 105hp 5-dr
13,455.00
GBT 1.2 8V 69hp 5–dr (no S&S)
12,050.00
GBT 0.9 TwinAir 85hp 5-dr
13,250.00
SPORTING 1.4 8v 77hp 3-dr
12,355.00
SPORTING 1.4 MultiAir 16v 105hp 3-dr
13,355.00
SPORTING 1.4 8v 77hp 5-dr
12,955.00
SPORTING 1.4 MultiAir 16v 105hp 5-dr
13,955.00
Source: Fiat