2014 Mercedes-Benz V-Class Marco Polo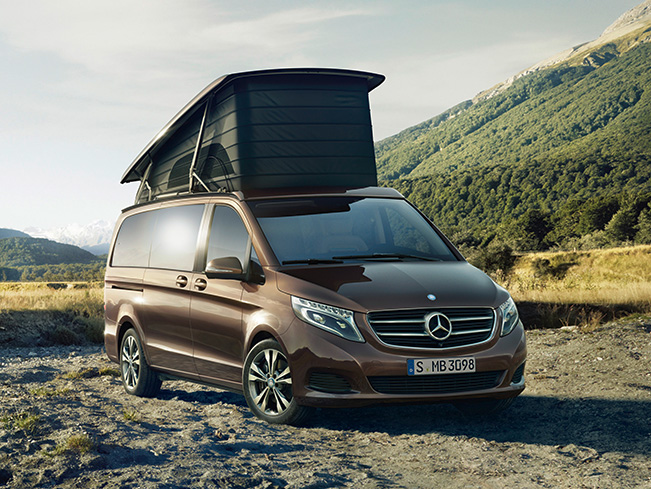 Mercedes-Benz has unveiled the new Marco Polo Special Edition of the V-Class. It is a compact camper van that "sets new standards in perceived quality, stylish living and comfortable practicality". It combines maximum practicality with design appeal and stylishness.
The interior boasts unrivalled feel-good ambience, outstanding comfort and high quality of appointments reminiscent of an exclusive lounge. There are fabric or leather seats, yacht wood floor and porcelain-like surfaces. The model also features piano black trim elements, some metallic accents and LED interior lighting. Other features include a sink, a refrigerator and a kitchen with two gas burners. There is also a cupboard, a closet and adjustable folding tables.
The best interior improvement are the two electrically adjustable rear seats, which can be transformed into a bed at a single push of a button. There is also a second bed described as a  high-quality foam mattress. It is situated in the pop-up roof compartment.
The engine range includes 200 CDI model with 2.0 liter diesel – 136HP (100 kW) and 330Nm (243 lb-ft) of torque. There is also a 220 CDI model – 2.0 liter diesel with 163HP (120 kW) and 380Nm (280 lb-ft) of torque. The top-of-range model produces 190HP (140 kW) and 440Nm (324 lb-ft).
The Marco Polo Special Edition is expected to hit the market on 29th July. No words about pricing, yet.
Source: Mercedes-Benz