2014 Toyota 4Runner - US Price $32,820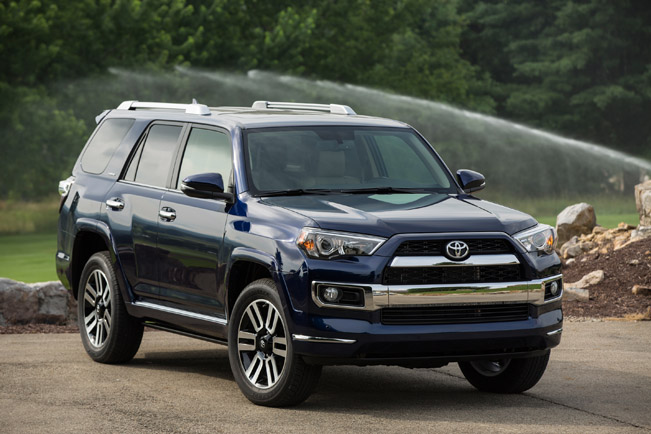 Toyota has published the full price list for 2014 4Runner and Tacoma models. The 2014 4Runner is priced from $32,820 and goes up to $43,400, while the 2014 Tacoma has a starting price of $17,625 and goes up to $28,185.
The base SR5 model of 2014 4Runner packs 17" alloy wheels, Entune infotainment system and fabric seats, but for an extra $1,875 it can have auto-dimming mirrors, sunroof, navigation, SofTex faux leather seats and power passenger seat. AWD system can be ordered for additional $2,920.
4Runner Trail has received a $1,430 price cut for the new model. It features a multi-terrain response system, hill-start assist and the company's crawl control system.
The Limited trim comes with four-wheel drive with a center locking differential, 15-speaker Entune Premium JBL sound system and a more refined X-REAS suspension.
The engine is a 4.0 liter V6 with 270HP (201 kW) and 376Nm (278 lb-ft) of torque. It is connected to a 5-speed ECT-i automatic transmission and a transfer case.
2014 4Runner Pricing
| | | | | | | | | |
| --- | --- | --- | --- | --- | --- | --- | --- | --- |
| Model # | Grade | Engine | Transmission | Body Style | MSRP 2013 | MSRP 2014 | MSRP Chg ($) | MSRP Chg (%) |
| | | | | | | | | |
| 8642 | SR5 | V6 | 5AT | SUV 4X2 | $31,490 | $32,820 | $1,330 | 4% |
| 8664 | SR5 | V6 | 5AT | SUV 4X4 | $33,365 | $34,695 | $1,330 | 4% |
| 8646 | SR5 Premium | V6 | 5AT | SUV 4X2 | | $35,740 | NEW | |
| 8648 | Limited | V6 | 5AT | SUV 4X2 | $38,995 | $41,365 | $2,370 | 6% |
| 8666 | SR5 Premium | V6 | 5AT | SUV 4X4 | | $37,615 | NEW | |
| 8670 | Trail | V6 | 5AT | SUV 4X4 | $37,155 | $35,725 | ($1,430) | -4% |
| 8672 | Trail Premium | V6 | 5AT | SUV 4X4 | | $38,645 | NEW | |
| 8668 | Limited | V6 | 5AT | SUV 4X4 | $41,030 | $43,400 | $2,370 | 6% |
2014 Tacoma Pricing
| | | | | | |
| --- | --- | --- | --- | --- | --- |
| Model # | Grade | MSRP 2013 | MSRP 2014 | MSRP Chg ($) | MSRP Chg (%) |
| 7103 | TACOMA REGULAR CAB 4X2 | $17,625 | $17,875 | $250 | 1.4% |
| 7104 | TACOMA REGULAR CAB 4X2 | $18,525 | $18,775 | $250 | 1.3% |
| 7113 | TACOMA 4X2 ACCESS CAB | $20,415 | $20,515 | $100 | 0.5% |
| 7114 | TACOMA 4X2 ACCESS CAB | $21,315 | $21,415 | $100 | 0.5% |
| 7162 | TACOMA PRERUNNER ACCESS CAB | $22,075 | $22,125 | $50 | 0.2% |
| 7164 | TACOMA PRERUNNER ACCESS CAB V6 | $23,510 | $23,560 | $50 | 0.2% |
| 7182 | TACOMA DOUBLE CAB 4X2 | $22,525 | $22,625 | $100 | 0.4% |
| 7186 | TACOMA PRERUNNER DOUBLE CAB 4X2 | $23,175 | $23,225 | $50 | 0.2% |
| 7188 | TACOMA PRERUNNER DOUBLE CAB 4X2 V6 | $24,610 | $24,660 | $50 | 0.2% |
| 7190 | TACOMA PRERUNNER DBL CAB 4X2 V6 L/B | $25,110 | $25,160 | $50 | 0.2% |
| 7503 | TACOMA REGULAR CAB 4X4 | $21,475 | $21,725 | $250 | 1.2% |
| 7504 | TACOMA REGULAR CAB 4X4 | $22,605 | $22,855 | $250 | 1.1% |
| 7513 | TACOMA 4X4 ACCESS CAB | $24,250 | $24,350 | $100 | 0.4% |
| 7514 | TACOMA 4X4 ACCESS CAB | $25,150 | $25,250 | $100 | 0.4% |
| 7553 | TACOMA 4X4 ACCESS CAB V6 | $25,805 | $25,905 | $100 | 0.4% |
| 7554 | TACOMA 4X4 ACCESS CAB V6 | $26,685 | $26,785 | $100 | 0.4% |
| 7593 | TACOMA DOUBLE CAB 4X4 V6 | $26,805 | $26,905 | $100 | 0.4% |
| 7594 | TACOMA DOUBLE CAB 4X4 V6 | $27,685 | $27,785 | $100 | 0.4% |
| 7596 | TACOMA DBL CAB 4X4 V6 L/B | $28,185 | $28,285 | $100 | 0.4% |
Source: Toyota