2014 Volkswagen Golf VII GTI by Caractere and JMS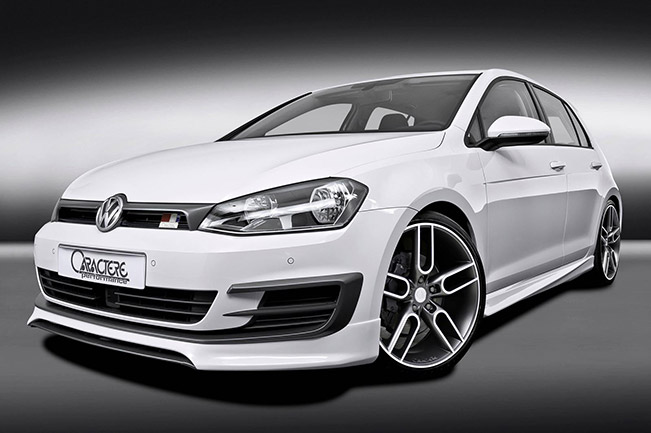 Caractere Automobile and JMS has teamed up to prepare a special tuning program for Volkswagen Golf GTI and GTD models. Both come with a number of styling upgrades, but there is no information about performance packages.
The exterior of 2014 Volkswagen Golf GTI/GTD can be modified with a new lip spoiler with a built-in diffuser and air intake covers. It can be easily fitted to the standard front bumper with mounting materials. The price is €589. There is also a new pair of side skirts for another €420 as well as different rear diffusers starting from €303. The tuning specialists also offer a rear skirt set with a new muffler and diffuser - €1,184.
Other special features are a roof-mounted spoiler – €303 and a hatch blend cover – €232. Last, but not least is the set of new 19" Caractere CW1 alloy wheels fitted with 225/35 R19 tires. The pricing is available upon request.
The tuning package is also available for the normal versions of the new Golf VII, but the pricing is a bit different, because of further modifications in installation.
2014 Volkswagen Golf VII GTI is powered by a 2.0 liter turbocharged petrol with 220HP (162 kW) and 350Nm (258 lb-ft) of torque. It is connected to a 6-speed manual gearbox. 0-100 km/h in 6.5 seconds and a top speed of 246 km/h (153 mph). There is also GTI Performance package boosting the engine with 10HP more. In this case, it will do 0-100 km/h in 6.4 seconds and 250 km/h (155 mph).
Source: Caractere