Audi Saloon Joins The S3 Quattro Family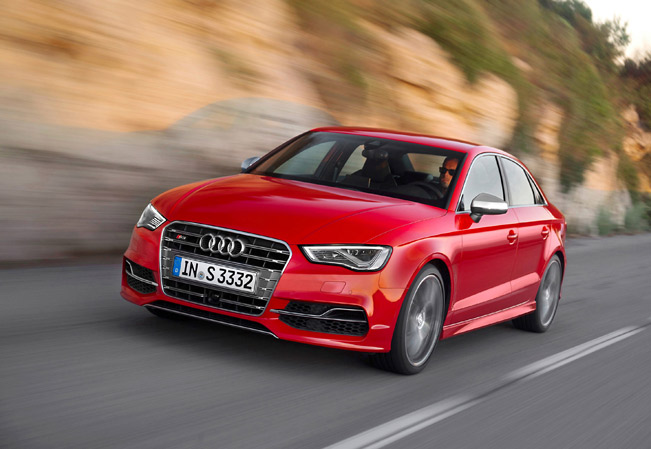 The Audi S3 Saloon – a yet another piece of the puzzle that that will see the formation of an S3 quartet. There's the Audi S3 and the Audi S3 Sportback; the said Saloon; and an upcoming Cabriolet. Probably the best way to describe the S3 Saloon is by referring to it as a blend of ultimate subtlety and brutal force. It's not that the S3 and S3 Sportback are too conspicuous, but one is a 3-door hatch and that always has a hint of youthfulness and sportiness and the other... well, it's called the Sportback, despite being slightly bigger and with a couple more doors. The S3 Saloon, however, is just your average three-box design with a trunk big enough for mount Rushmore.
Considering all that civility, you'd be surprised by what hides underneath the aluminum hood. Its a brand new 2.0-liter TFSI engine with direct and indirect injection, clever thermal management and exhaust manifold integration. The result is 296 hp at 5,500 rpm and peak torque that starts from 1,800 rpm. With the optional S tronic twin-clutch transmission, the S3 Saloon is capable of a 4,9-second sprint from 0 to 62 mph. Yet, even in the engine bay, refinement has left its mark – there are two shafts that rotate twice with the speed of the crankshaft for the ideal balance, mpg goes as high as 40,9 and there's barely any engine noise in the cabin.
The S3 is pretty slim as well. Keep in mind that we are talking about a 390-liter trunk space and a S3 Sportback sourced wheel-base that's 35 mm longer than the A3's. Then there's the complex chassis which employs a MacPherson front and four-link rear S sports suspension, plus Audi's magnetic drive. Add to that a multi-plate clutch-based quattro permanent all-wheel drive system and you are looking at a lot of engineers scathing their heads, wondering if all is made from paper. Yet, Audi has somehow pulled it off. With some extensive use of aluminum, the S3 Saloon's weight stands at around 1,430 kg. What's more, it's well distributed with 59% of it going over the front axle and 41% over the rear.
Visual treats include the S3 Saloon S-specific single-frame grille and front bumper, aluminum-look exterior mirrors, pronounced side sills and a redesigned rear bumper incorporating a platinum gray diffuser and cut-outs for the exhaust system's four oval tailpipes
Inside, there's the host of high-tech gadgetry one would expect from a five-door Audi – drive select with comfort, auto, dynamic and efficiency settings all of which affect the throttle response, steering, the S-tronic's shifting points, and the suspension. There are also "blank" settings for you to customize "within certain limits". The flat-bottomed steering wheel is one of the more conspicuous things about the S3 Saloon. Again in true S quattro fashion, the dials on the instruments are gray and the needles white. There's an information screen in the middle and a boost pressure indicator embedded in the rev counter. Dual-zone climate control, iPod connectivity, DAB digital radio, Bluetooth and SD card compatible navigation system all come as standard. As an option, there's also the possibility to have 4G internet in it. Most people don't even have that on their phones.
Source: Audi