2014 BYD Qin Hybrid - 1.6 liters / 100 km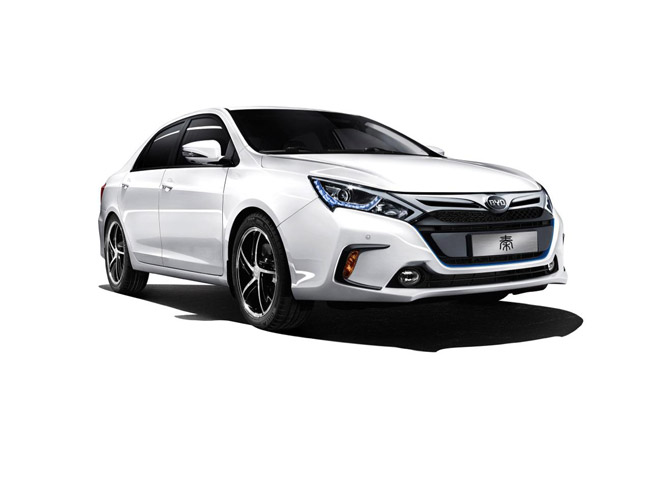 The Chinese automotive manufacturer BYD has announced the 2014 Qin Hybrid. The automaker practically copy a lot of elements from BMW and some of their models are completely identical (outside).
The Qin Hybrid was actually presented at the 2012 Beijing Motor Show and now the model is officially on sale in China. It is described as a "high tech, performance-based hybrid car".
2014 Qin Hybrid is powered by a 1.5 liter petrol engine – 151HP (113 kW) and 240Nm (177 lb-ft) and an electric motor – 147HP (110 kw) and 250Nm (184 lb-ft). The total power is 291HP (217 kW) and 479Nm (353 lb-ft), which is actually pretty good result. 0-100 km/h in 5.9 seconds and a top speed of 195 km/h (115 mph) – electronically limited. The Qin Hybrid can go up to 70 km (44 miles) only on electricity and can return 177MPGe – 1.6 liters / 100 km.
There are four driving modes - EV+ECO, EV+SPORT, HEV+ECO and HEV+SPORT.
BYD also plans to introduced the model in Europe, next year and in the US by late 2015.
BYD QIN – SPECIFICATION FOR CHINESE MARKET
| | | |
| --- | --- | --- |
| Engine type | | BYD 476ZQA 1.5Ti |
| Engine rated power | kW/rpm | 113/5200 |
| Engine max. torque | Nm/rpm | 240/1750-3500 |
| Motor max. power | kW/BHP | 110/148 |
| Motor max. torque | Nm | 250 |
| Total power | kW/BHP | 217/291 |
| Total torque | Nm | 479 |
| Acceleration 0-100kmh (62 mph) | Sec | 5.9 |
| Fuel consumption under normal conditions | L/100kmMPG | 1.6177 |
| Top speed | KMHMPH | 185115 |
| Tank capacity | LitresGallon | 5011 |
| Range in EV mode | KMMiles | 7044 |
Source: BYD