2015 Honda Fit impresses at the 2014 SEMA Show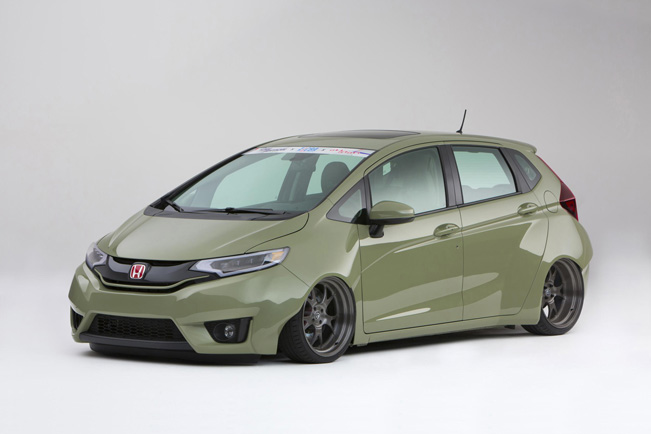 We have known for months that Honda would present six customized 2015 Honda Fit vehicles at the 2014 SEMA Show but no one expected such a Honda storm at this event. Honda has not only demonstrated the promised six vehicles but has also taken the show by storm with the demonstrated cars. The company has nine personalized versions of the Fit in the Honda booth and won the dreamed "Hottest Sport Compact" SEMA award in no time after the vehicle presentation. The Honda booth is dominated by the Fit, customized by Tjin Edition, which was voted as the Fan Favorite in the 2015 Fit Performance Project, which enabled fans to track the build processes of several teams through an interactive Honda Tumblr site.
"The 2015 Fit is a worthy addition to Honda's strong heritage of developing tuned sport compact vehicles, and it wears the mantle of "Hottest Sport Compact" well," said Jeff Conrad, SVP & General Manager of Honda Division, American Honda Motor Co, Inc. "Fun to drive, versatile and a great value, the new Fit does so many things right, and it's great to see it becoming a popular platform for owner personalization."
During the past six months Honda fans were able to monitor the progress of the six build teams that customized the all-new 2015 Honda Fit through an ambitious project vehicle program and interactive Tumblr experience, known as 2015 Fit Performance Project. The six build teams - Tjin Edition, voted Fan Favorite; Bisimoto Engineering; Kontrabrands; MAD Industries; Spoon Sports USA; and the award-winning Kenny Vinces – customized the cars in public.
If you happen to visit Honda's booth at the 2014 SEMA Show you will also see a Fit B-spec race car prepared for competition by Honda Performance Development (HPD), which is Honda's North American racing company and then a Fit loaded with available dealer-installed Honda Genuine Accessories; and an additional Fit personalized by prominent tuner, Bisimoto, on behalf of Norm Reeves Honda in response to fan feedback prompted through the 2015 Fit Performance Project.
Honda has been on the US market for more than 30 years, producing vehicles in 16 major manufacturing facilities in North America. The brand also has about 1,000 independent dealers in the United States. As to the 2014 SEMA Show – it takes place November 4 – November 7, 2014 at the Las Vegas Convention Center in Las Vegas, Nevada.
Source: Honda