2015 Toyota Prius Plug-In Hybrid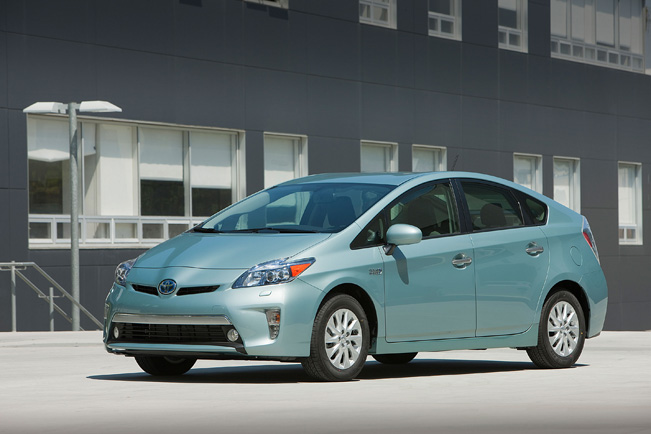 The 2015 Toyota Prius Plug-in Hybrid continue into the new year with some updates and changes. The Toyota Prius shape is well established after 12 years and its instantly recognizable. The five-door hatchback has a vertical tale and a smooth front with minimum. Its size allows four to five people to fit in along with their luggage.
The cabin looks incredible. The two-level dashboard layout  now looks dated-through the interior design appearing futuristic, compared to its launch in 2009. With interior surfaces clad entirely in hard plastics, of various textures and patterns. The first thing to catch you eye is a console that sweeps down from the top dashboard. There are additional features that include:
Heated seats
Bluetooth Connectivity
SiriusXM Radio
Digital Audio Output
Steering wheel controls and automatic climate control
Tilt and telescopic steering wheel
Navigation system and Cruise control
Toyota made sure they made this car as safe as possible with curtain head airbags, side airbags, brake assist, traction, anti-lock brakes and stability control passenger airbags etc. While its striking visually, in practice the storage space under it is largely invisible and hard to reach. Four adults will fit comfortably, with some efforts put in, five adults can also fit in and the EPA defines the Prius as a mid-size car based on interior volume. The 2015 Toyota Prius power train remains unchanged, with total output of 134 hp(99 kW) from the 1.8-liter four cylinder engine and a pair of electric motor generators. They provide electric torque to supplement torque from the engine, recharge the battery during regenerative braking or engine overrun and can power the car solely on electricity at speeds up to 30 mph (48 km/h).
Toyota has more experienced building hybrids than any other maker, and its blending of regenerative braking with the conventional friction brakes is outstanding. But if you need more than leisurely performance, 0-60 mph (0-100 km/h) is just under 10 sec you will quickly hear the engine revering up to high speeds.
Source: Toyota