2015 Toyota Sienna Receives a SpongeBob Movie-themed Look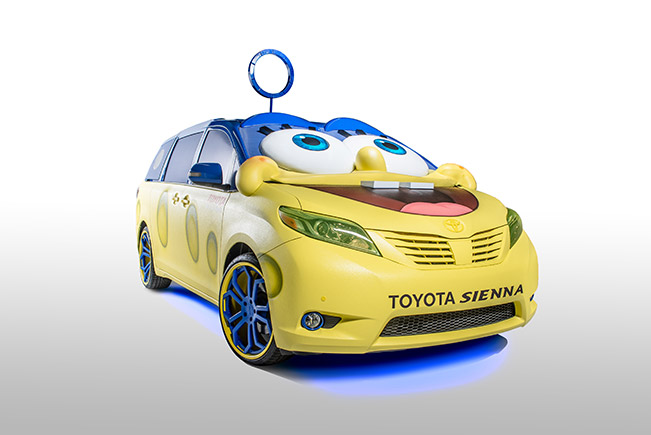 I will allow myself to use a quote from SpongeBob Squarepants himself: "hahahahahah" (I almost shed a tear here).
Toyota has once again teamed up with Nickelodeon studios to create a 2015 Sienna minivan that is inspired by the upcoming "SpongeBob Movie: Sponge Out of Water." The car will have its official premiere at 2014 LA Auto Show this week. It is definitely unique, fun and unconventional. It is impossible to describe it in a different way. This Toyota is an absolute ice-breaker and can make everyone laugh. Or at least smile.
The SpongeBob Movie-themed 2015 Toyota Sienna will be rolled out on a cross-country promotional tour leading up to The SpongeBob Movie's premiere on the 6th of February, 2015. The tour will follow different family-friendly locations like some Bass Pro Shops across the US, Nickelodeon Suites Resort, Orlando, Fla.; Nickelodeon Universe at Mall of America, Minneapolis, Minn.; the Chicago Auto Show, Chicago, Ill.; and, finally, the New York Auto Show, New York, NY.
This one-of-a-kind Toyota has a custom three-dimensional SpongeBob SquarePants exterior, complete with the character's Superhero Incredibubble mask. For a full amazement, the latter blows real bubbles at the top of the car. The interior features seatings inspired by each of SpongeBob's Bikini Bottom friends. There is also a wood-grain dashboard, a custom Captain's steering wheel, a blue-sky head liner and a sand-inspired floor.
The initial 2015 Toyota Sienna made its debut earlier this year. The car comes with a number of improvements such as refreshed exterior styling packed with added safety, convenience, multi-media features and many more.
Source: Toyota