2015 Volkswagen Golf VII GTI - Best Interior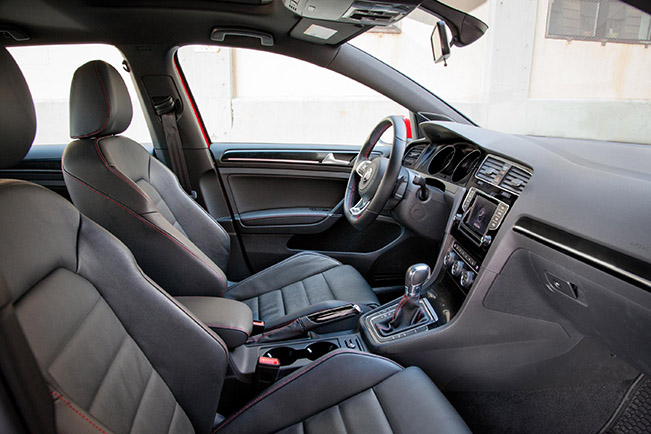 2015 Volkswagen Golf VII GTI is selected to take place in "Ward's 10 Best Interior" competition for this year.  The editors of the magazine tested more than 40 vehicles and recognized the refined, upscale, and functional new interior of the Golf GTI, which is completely redesigned and scheduled to arrive in dealer showrooms in June.
The all-new GTI boasts high-quality materials used for the interior as well as a sport steering wheel, GTI shift knob grip and instrument cluster. Other highlights include special trim inserts, and stainless-steel pedals and foot rest. The Golf GTI also features sport seats that are covered with distinctive plaid seating surfaces in the S trim and leather on the SE and Autobahn models.
Although the new Golf is quite small hatchback, it boasts more interior space – 0.6" more rear-seat legroom; In front, the shoulder and elbow room were increased by 1.2" and 0.9" inches, with commensurate improvements in the back by 1.2" and 0.8".
The interior is entirely redesigned compared to the previous model. The wide center console is now oriented towards the driver, a feature that's more typical of premium vehicles rather than compacts. In the middle of the console, beneath the hazard warning light switch, is the infotainment screen. For the first time, Volkswagen is using touchscreens with a proximity sensor, allowing users to change functions with a swipe of the hand, just like a smartphone.  All Golf models receive a standard 5.8" touchscreen. The available new navigation systems are DVD-based with a 3D display.
Source: Volkswagen