2016 Rolls-Royce Dawn is one of the most exclusive and luxurious vehicles we have seen so far. The latest open-top model from the British company comes in 2+2 seat configuration, and its roof was specifically engineered to deliver the silence of a Wraith. Besides the luxurious exterior and interior, the car has powerful engine generating 563hp. But, we'll talk about that a little bit later.
The Dawn & The Exterior
The exterior of the new Rolls-Royce Dawn has the typical characteristics for the brand. Nearly 80% of the exterior body panels feature new design that aims to make the car beautiful with its roof up as with it down. The other key characteristics for the brand were also retained. We see the main Rolls-Royce design principles applied here: the 2:1 wheel height to body height, as well as the long bonnet, the short front and the long rear overhangs, and the high shoulder line.
SEE ALSO: Dawn Rises for Rolls-Royce. Rare Model Will Ride Under Sunlight One More Time
At the front we see the characteristic grille and fascia. In addition, the profile gives purpose to the 21" polished painted wheels. The stainless steel waist line finisher wraps around the cabin. It also encompasses the deck covering the soft top when stowed. Visibility is given to the exhausts and front and rear bumper jewellery, to create a one-off look and presence.
Dawn's Contrasting Interior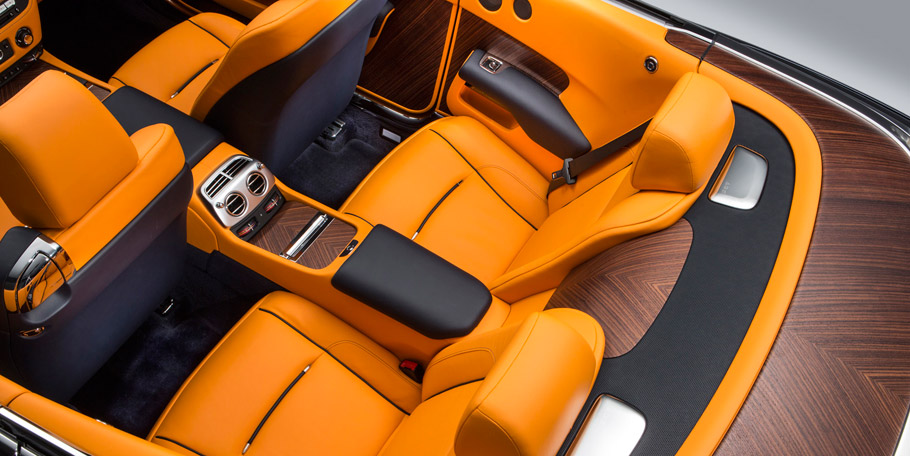 Entering the interior happens through the one-off coach doors, which are designed to make the access to the rear seats easier. Speaking of which, have I mentioned that there are exactly 4 separate bucket seats? In fact, the interior complements the exterior, but adds a little more opulence and coziness.
Besides the finest leathers that have been used for the upholstery, the interior also features other exclusive and high-end goodies like the "real"-wood surfaces used on the centre console for example. Moreover, the instrument dials were improved via applied polished metal chaplets around the dials, and there is a new clock design featuring the new motor car's name. 
At the Heart of the Dawn

Rolls-Royce Dawn is driven by a strong motor: the twin-turbo 6.6-litre V12 which has a power output of 563bhp (420kW) delivered at 5,250rpm and a torque rating of 780Nm (575 lb-ft) at 1,500rpm. This promises an exceptional driving experience that is assisted by Wraith's satellite aided transmission. The transmission uses GPS data to allow the car to see beyond what the driver sees, thus anticipating their next move based on location and driving style. In turn, this information helps in the selection of the most appropriate gear from the Dawn's 8-speed ZF gearbox. And the best thing is that this feature is included as standard.
And if you are interested in the details, take a look at the specifications of the 2016 Dawn below.
2016 Rolls-Royce Dawn Technical Specifications:
| | |
| --- | --- |
| | |
| Vehicle length | 5285mm / 17.34ft |
| Vehicle width | 1947mm / 6.39ft |
| Vehicle height (unladen) | 1502mm / 4.93ft |
| Wheelbase | 3112mm / 10.21ft |
| Turning circle | 12.7m / 41.7ft |
| Boot Volume (DIN) | 244ltr - 295ltr / 8.6 ft3 - 10.4 ft3 |
| | |
| Unladen Weight (DIN) | 2560kg / 5644lb |
| | |
| Engine / cylinders / valves | V / 12 / 48 |
| Fuel management | Direct injection |
| Power output @ engine speed | 563bhp / 420kW / 570PS @ 5250rpm |
| Max torque @ engine speed | 780Nm / 575lb ft @ 1500rpm |
| Fuel type | 10:1 / Premium unleaded1 |
| | |
| Top speed | 250kmh / 155mph (governed) |
| Acceleration 0 - 100km/h | 4.9sec² |
| | |
| Urban | 21.4ltr / 100km / 13.2mpg (Imp.) |
| Extra urban | 9.8ltr / 100km / 28.8mpg (Imp.) |
| Combined consumption / range | 14.2ltr / 100km / 19.9mpg (Imp.) |
| CO2 emissions | 330g/km |
Source: Rolls-Royce