Abarth Grande Punto S2000
The public in Geneva will also be able to admire the extraordinary Grande Punto Abarth S2000. This is a racing car designed for racing stables, which the Fiat Racing Department will be entering in the 2007 Italian Rally Championship with Giandomenico Basso and his navigator Mitia Dotta. Davide Gatti, winner of the 2006 Fiat Abarth International Trophy, will compete at the wheel of an official Fiat Grande Punto R3D with a diesel engine. On the international scene, the Grande Punto Abarth S2000 will compete in the IRC (Intercontinental Rally Challenge) with drivers Andrea Navarra, his navigator Guido D'Amore, and young Umberto Scandola and Anton Alen.
The Abarth & C. Spa racing team will be managed by Claudio Berro.
Powered by a 2000 cc aspirated engine that delivers 270 bhp, with 4-wheel drive, the new Grande Punto Abarth S2000 is heir to the version that took the 2006 Italian Rally Championship title with Paolo Andreucci and Anna Andreussi, winning 7 of the 11 races on the programme. Nor must we forget the excellent season of their team-mates Andrea Navarra and Guido D'Amore who took third place. Giandomenico Basso and Mitia Dotta won the European title and the International Rally Challenge.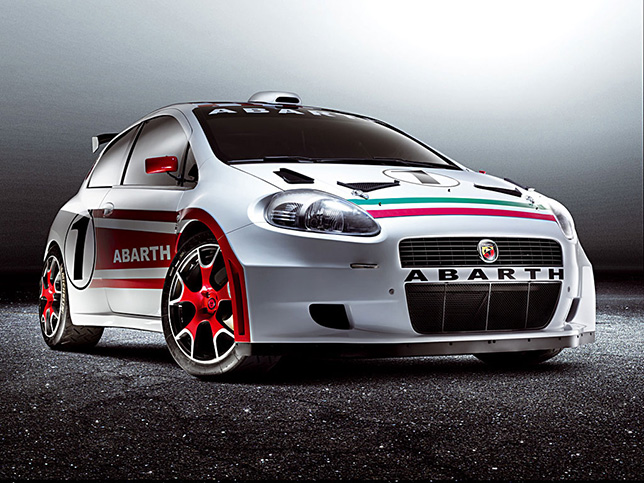 Since its debut last season, the racing version has proved unbeatable, whatever the type of route or terrain. And we must underline that the 15 cars built so far have been ordered by several racing stables in Europe and elsewhere, to compete in domestic and international rallies. And now, thanks to this technological and competitive superiority, the new Grande Punto Abarth S2000 is ready to compete in these two championships with the same determination and assertiveness.
And finally, as well as a successful car and an outstanding team of drivers, the new Abarth & C. company can also boast a staff with a great deal of experience in motorsports: a total of 113 experts, 26 in the engineering field, 43 on the manufacturing side and 9 dedicated to racing.