ABT 2012 Audi Q3
ABT has created a special tuning package for the new 2012 Audi Q3. The small crossover received both styling and performance packages.
The aerodynamics kit includes new front bumper, new front grille, door strip attachments, rear diffuser housing exhaust tailpipes and a rear wing.
There are also a set of lowering sport springs and a number of CR and DR design light alloys in dimensions between 18" and 20". The sets are available with low profile sport tires.
The performance upgrades includes ECU re-map for the 2.0 liter TSI, which is boosted to 250PS (184 kW), instead of the stock 211PS (155 kW). The 170PS version now delivers 210PS (154 kW). The 2.0 liter TDI with 140PS is bumped up to 170PS and the more powerful 177PS version now boasts 195PS.
Check out the specifications, below!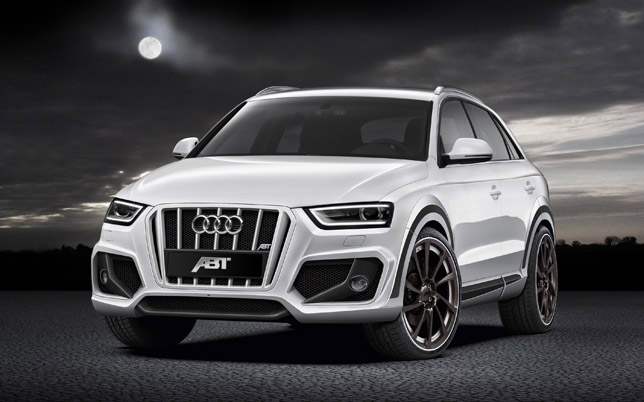 ABT 2012 Audi Q3 Specifications:
ABT ENGINE TECHNOLOGYEngine:                2.0 TDI, 1.968 ccm capacity Performance tuning:            ABT POWER Performance:                170 HP/125 kW (standard: 140 HP/103 kW)
ABT ENGINE TECHNOLOGYEngine:                2.0 TDI, 1.968 ccm capacity Performance tuning:            ABT POWER Performance:                195 HP/143 kW (standard: 177 HP/130 kW)
ABT ENGINE TECHNOLOGYEngine:                2.0 TSI, 1.984 ccm capacity Performance tuning:            ABT POWER Performance:                210 HP/154 kW (standard: 170 HP/125 kW)
ABT ENGINE TECHNOLOGYEngine:                2.0 TSI, 1.984 ccm capacityPerformance tuning:            ABT POWER Performance:                250 HP/184 kW (standard: 211 HP/155 kW)
ABT AERODYNAMICSABT front grillABT front skirt ABT door strip attachments ABT rear skirt set with exhaust inserts ABT rear wing
ABT SUSPENSIONABT suspension springs
ABT WHEEL TECHNOLOGYABT CR and DR designer light alloy wheels in 18 to 20 inch Available also as complete set of wheels with sports tyres