ABT Audi RS5-R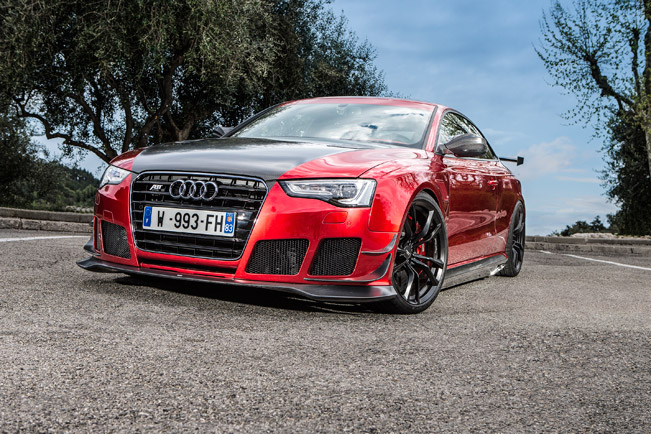 ABT Sportsline has presented the fabulous Audi RS5-R. It pack styling and performance modifications as well.
The 4.2 liter V8 is boosted to 470HP (346 kW) – 0-100 km/h in 4.3 seconds and a top speed of 303 km/h (187 mph). The huge performance triggered by revving up is very, shall we say, sound-variable, because ABT has indeed mounted an amazing sidepipe, ending shortly before the rear axle on the driver's side.
"In the RS5-R, we combine our motor sport competences and the development of roadworthy vehicles in an ideal fashion. On the race track, power isn't everything. Balance and weight are equally decisive." commented Hans-Jürgen Abt, ABT Sportsline's CEO.
There are a lot parts made from carbon fiber - assertive front skirt with side flics, the front splitter, side skirts, rear wing, rear skirt and bonnet with its impressive air outlets. Weight-optimised super sport-type wheels round it all off. The wheels also combine a top design with sportiness: ABT uses the elegant forged ER-F in 9.5J x 20" fitted with 275/30 R20 Continental tires.
The interior boasts black and red Alcantara. Racing stripes on the sport-type bucket seats, carbon door panels, 4-point safety belts and a roll cage adorn the driver's "work station". The sport-type steering wheel is ergonomically perfect and features an LED shift indicator and a carbon-Alcantara mix of materials.
Source: ABT