ABT Performance Cockpit - ZENEC-Naviceiver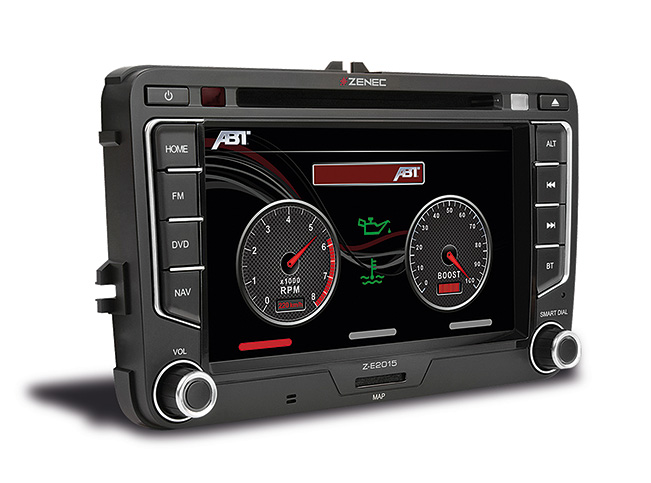 ABT is now offering Performance Cockpit available for more than one hundred different cars and engines by VW, Skoda and Seat: Golf, Octavia and Leon plus Yeti or T5 and others.
"With the new ABT PERFORMANCE COCKPIT this is different," says CEO Hans-Jürgen Abt. "Here the driver always sees what's happening with the engine".
A high-quality ZENEC-Naviceiver displays the range of the maximum available ABT Power being used and also other interesting data like exhaust temperature, petrol, oil and boost pressure, vehicle voltage and oil temperature. It also shows the latest torque.
The Abt Performance Cockpit is only available in combination with specially pre-equipped upratings and was developed in conjunction with the ZENEC multi-media specialists. The package is based upon a device triad: the data are provided by the specially adapted ABT engine control unit (AEC), which increases the engine's performance, and this information is conveyed to the ZENEC-Naviceiver Z-E2015 via the new ABT Gateway Interface.
The prices for the high-quality ZENEC-Naviceiver in combination with an ABT uprating start at €2,550 in Germany, depending customer's car. With the Abt Performance Cockpit, drivers do not only feel their uprating but also see it.
Source: ABT