ABT Volkswagen Beetle Cabrio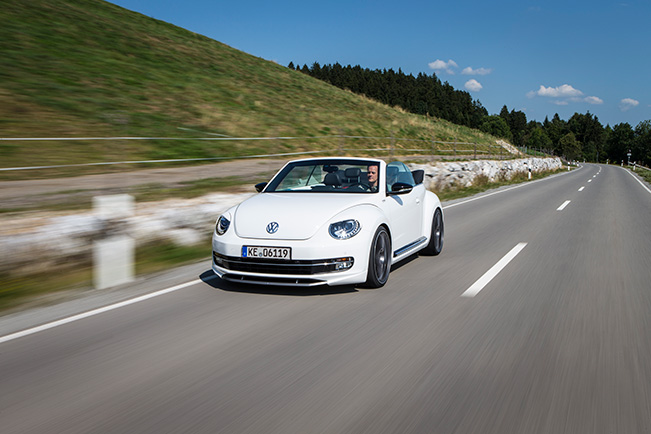 ABT has presented their latest project based on the sexy Volkswagen Beetle. The tuning specialists offer both styling and performance improvements.
There petrol range includes 1.2 liter TSI, 1.4 liter TSI and 2.0 liter TSI. The smallest is boosted to 140HP (103 kW) and 220Nm (163 lb-ft). The middle power unit now has 210HP (154 kW) and 280Nm (207 lb-ft) of torque. The powerful 2.0 liter TSI is offered with two stages. Stage I has 240HP (176 kW) and 340Nm (252 lb-ft) and Stage II offers 260HP (191 kW) and 350Nm (259 lb-ft).
The diesel range comprising of 1.6 liter TDI and 2.0 liter TDI is boosted to 125HP (77 kW) and 285Nm ; 170HP (125 kW) and  370Nm, respectively.
Other highlights include a big brake system with 345 x 30 mm discs, steel flex lines and black callipers bearing the ABT logo, a set of 20" DR gun-metal alloy wheels or the ER-C and CR models and various colours and sizes.
"The ABT Aero-Kit is therefore harmonious. It uses a front spoiler, head and tail light covers, rear panel and rear skirt set with a two-pipe exhaust system that make this Beetle different indeed, while still appearing very natural," said CEO Hans-Jürgen Abt.
ABT Beetle Convertible – Data and Facts
Engine: 2.0 TSI, 1.984 cc capacity Performance tuning: ABT POWER New Generation Performance: 260 HP/191 kW (standard: 210 HP/154 kW) Torque: 350 Nm (standard: 280 Nm)
Engine: 2.0 TSI, 1.984 cc capacity Performance tuning: ABT POWER New Generation Performance: 240 HP/176 kW (standard: 200 HP/147 kW) Torque: 340 Nm (standard: 280 Nm)
Engine: 1.4 TSI, 1.390 cc capacity Performance tuning: ABT POWER New Generation Performance: 210 HP/154 kW (standard: 160 HP/118 kW) Torque: 280 Nm (standard: 240 Nm)
Engine: 1.2 TSI, 1.197 cc capacity Performance tuning: ABT POWER New Generation Performance: 140 HP/103 kW (standard: 105 HP/77 kW) Torque: 220 Nm (standard: 175 Nm)
Engine: 2.0 TDI, 1.968 cc capacity Performance tuning: ABT POWER New Generation Performance: 170 HP/125 kW (standard: 140 HP/103 kW) Torque: 370 Nm (standard: 320 Nm)
Engine: 1.6 TDI, 1.598 cc capacity Performance tuning: ABT POWER New Generation Performance: 125 HP/92 kW (standard: 105 HP/77 kW) Torque: 285 Nm (standard: 250 Nm)
ABT front spoiler ABT head light covers ABT tail light covers ABT rear panel ABT rear skirt set
ABT 2-pipe rear muffler
ABT WHEELS CR, DR and ER-C in 18 to 20 inches
Available also as complete set of wheels with sports tires in sizes 235/45 R18, 235/40 R19 or 245/30 R20
ABT suspension springs (lowering approx. 30mm at the front, 35mm at the rear)
ABT brake system, front axle, 345 x 30 mm, callipers painted black with ABT logo
Source: ABT