Acura Displays Three Customized Sedans At SEMA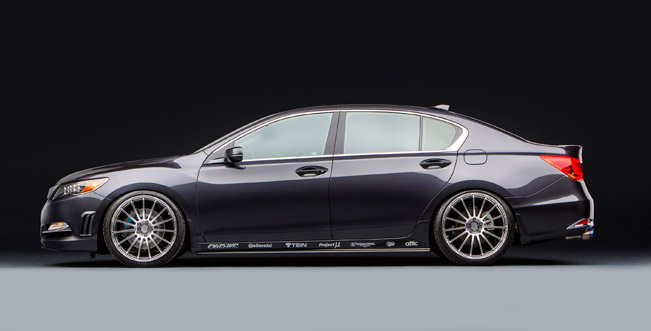 At SEMA Show, the powerful Acura brand has just unveiled three customized sedans: Acura RLX VIP Sedan created by Evasive Motorsports, RLX Urban Luxury Sedan and Street Performance ILX both modified by MAD Industries.
As a platform MAD Industries and Evasive Motorsports used Acura sedans to create even more exciting and dynamic custom vehicles. The firs one - 2014 Acura RLX VIP Sedan by Evasive Motorsports was designed with the aim to be equally comfortable for daily utilization as well as for more important urban activities.
Te modifications here include custom carbon fiber front bumper lip and vents, a modified rear bumper and fabricated exhaust system with titanium tips. What rounds-out the esterior enhancements are Chargespeed side skirts combined with a deck lid spoiler and splash guards from Acura Genuine Accessories
In addition, Nano-Fusion Film was used in order to deliver better protection of the paint on the front end. The wheels on which this VIP automobile runs are 21-inch Advan F15 wrapped in 245/35ZR-21 Continental ExtremeContact DW tires.
The lowering of the body was made possible via the prototype Tein Street Flex coilovers. Four-pot Project Mu calipers and brake pads, and Evasive-spec brake rotors sit behind the front wheels. The interior modifications feature custom neck pillows wrapped in Jordan Brand-inspired elephant print.
Powertrain Modifications:
Custom Evasive Motorsports exhaust
Quad titanium exhaust tips
Chassis/Suspension Modifications:
21 x 9-inch (+35mm offset) AVS Model F15 wheels
245/35ZR-21 Continental ExtremeContact DW tires
Prototype Tein Street Flex Coilovers
Project Mu 4-piston big brake kit
Project Mu NS400 brake pads
Custom Evasive-spec brake rotors
Exterior Modifications:
Custom carbon fiber front chin spoiler
Custom carbon fiber front bumper vents
Chargespeed carbon fiber side skirts
Acura Genuine Accessories deck lid spoiler
Acura Genuine Accessories splash guard set
Muteki SR48 Lugs
S&A Design vinyl stickers
Nano-Fusion paint protection film
Interior Modifications:
Custom Jordan Brand-inspired elephant print neck pillows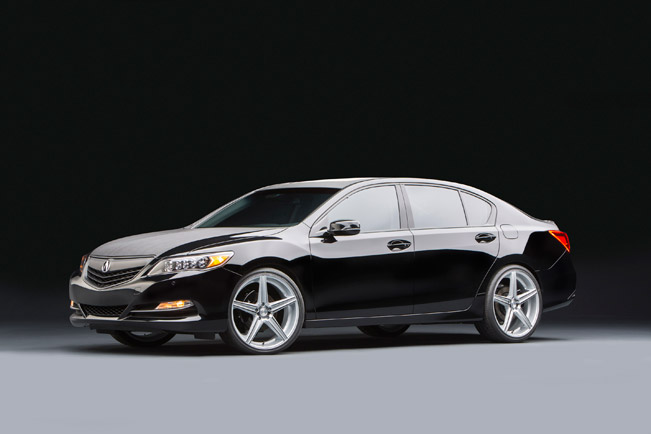 The second vehicle displayed at the show is the 2014 Acura RLX Urban Luxury Sedan, created by MAD Industries. Its design speaks of every-day utilization. In terms of exterior look, the tuners used Acura Genuine Accessory decklid spoiler and 3M 1080 Scotchprint wrap film, in brushed black metallic with gloss black accents.
What completes the visual stance of the car is the 3M Color Stable window film and the Silver 22-inch Niche wheels wrapped in Nitto Invo tires. Complementing the wheels, MPG custom satin black caliper covers finish off the exterior details. For the interior, the designers added 3M brushed black metallic film door and trim accents.
Chassis/Suspension Modifications:
22 x 9-inch Niche Apex-M125 silver & machined wheels
265/30ZR-22 Nitto Invo luxury sport performance tires
MPG Custom satin black caliper covers
Exterior Modifications:
Acura Genuine Accessories deck lid spoiler
Interior Modifications:
3M 1080 Scotchprint wrap film series in brushed metallic - 1080-BR212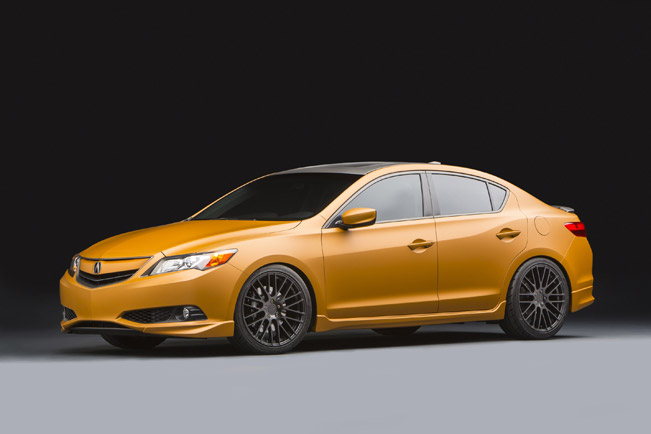 The other vehicle created by MAD Industries is the Acura Street Performance ILX which was designed to appeal to those searching for a fun car that feels at home on city streets or a curvy mountain pass. As one can see, the vehicle is wrapped in matte copper metallic and accented by matte charcoal metallic 3M Scotchprint 1080 film.
Acura's Genuine Accessories aero kit perfectly complements the set of 19-inch TSW Max wheels wrapped in Nitto NT05 Max high performance tires. The aggressive stance of the car is enhanced by Tein Super Street coilovers which in addition improve the dampening during spirited driving.
The powertrain of this Acura was also tuned via a supercharger kit from CT Engineering and an ECU tune with Hondata's FlashPro. The result is that the ILX's 2.4-liter Inline-4 pump out 250 wheel horsepower (184 kW). The prototype SP Elite exhaust from Greddy adds a throaty exhaust note.
Powertrain Modifications:
CT Engineering supercharger kit
CT Engineering intake
Hondata FlashPro
Greddy SP Elite prototype exhaust
K&N high performance air filter
AMSOIL Dominator motor oil
Chassis/Suspension Modifications:
19 x 8.5 TSW Max matte black wheels
245/35R-19 Nitto NT05 Max tires
Tein Super Street coilovers
Stoptech Big Brake kit
MPG custom satin black caliper covers
Exterior Modifications:
3M 1080 Scotchprint wrap film: copper metallic 1080-M229 and charcoal metallic 1080-M211 installed by Paradise Moterwerks
PIAA 9006 low beam and 9005 high beam Extreme White headlight bulbs. H11 fog lamps and Terra LED dome light bulbs.
Acura Genuine Accessories front underbody spoiler
Acura Genuine Accessories side underbody spoiler
Acura Genuine Accessories rear underbody spoiler
Acura Genuine Accessories deck lid spoiler
Acura Genuine Accessories body side molding
Interior Modifications:
CT Engineering short-shift kit
Acura Genuine Accessories illuminated door sill
Acura Genuine Accessories trunk tray
Source: Acura