Why the first production 2017 Acura NSX is a big moment for the brand and for everyone living in Ohio [w/videos]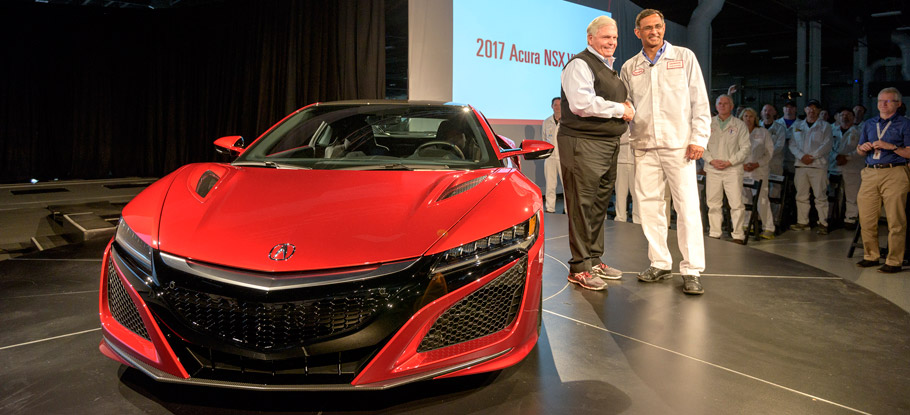 2017 Acura NSX is finally here! The first serial production 2017 Acura NSX rolled-off the line of the new Performance Manufacturing Center (PMC) in Marysville, Ohio. In fact, this is a big moment for the Japanese brand, because it is a culmination of more than 30 years of manufacturing experience. Based on the work of many expert technicians and with the involvement of their passion, this car has achieved major innovations in its design and manufacturing, thus delivering incredible precision crafted performance.
The happiest person on Earth now is the first customer, Rick Hendrick, who had taken the delivery of the VIN 001. For the modest amount of $1.2 million USD he won the bid at the Barrett-Jackson auction in January. The proceeds are going to two children's charities: Pediatric Brain Tumor Foundation and Camp Southern Ground.
SEE ALSO: Acura Reveals the NSX GT3 Racer in New York 
Hendrick's Acura NSX is painted in Valencia Red Pearl and features VIN 001 interwoven wheels, carbon ceramic brake rotors, leather and Alcantara interior trim and carbon fiber upgrades including the engine cover, roof, and rear decklid spoiler.
2017 NSX is actually the only supercar designed, developed and manufactured in the U.S., and specifically in Ohio. It is produced exclusively at the Performance Manufacturing Center (PMC) there. This center was designed to blend human craftsmanship and advanced technologies in order to achieve and deliver superior quality and precision crafted performance.
In addition, at the PMC have been developed 12 patent-pending technologies and other advanced methods of producing a made-to-order supercar. At the plant there have been also made innovations to the NSX construction, painting, assembly and quality.
In another location (Anna, Ohio) is positioned Acura's largest engine plant. There master builders hand-assemble the NSX's 3.5-liter twin-turbocharged V-6 engine. The unit is connected to an advanced 9-speed dual clutch transmission and rear direct drive electric motor. At last, the powerplant is installed at the PMC, as it is the front-mounted Twin Motor Unit, which enables electrically powered torque vectoring.
Video Source: YouTube
Source: Acura