Advanced Materials Reduce Weight Of 2015 Chevrolet Colorado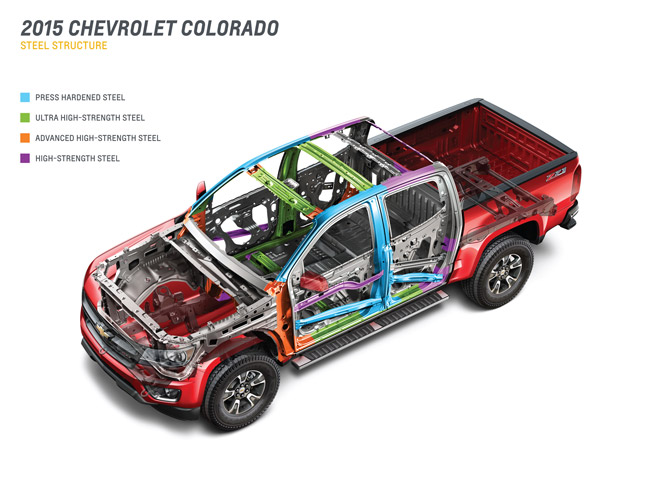 What's new about 2015 Chevrolet Colorado is that it has been built with engineering techniques and lightweight materials. The result is a true pickup capability in a mass-efficient midsize package. In fact, the new 4x4 crew cab weighs 880 to 1,400 less than a full-size truck.
To be more precise, the savings in weight are result of the smaller overall dimensions of the model as well as the extensive utilization of lightweight materials such as high-strength steels and aluminum.
In overall size, Colorado is 212.76 inches long, 74.3 inches wide, but still can deliver up to 6,700 pounds of towing capability. In the design and construction of this Colorado, GM engineers have utilized materials that would guarantee strength, safety and refinement, and at the same time – dependability.
Lightweight, high-strength steels are used for the creation of the fully boxed frames, thus delivering less weight and more stiffness for a quieter ride and better handling. About 71 percent of the body structure is comprised of high-strength steels. In addition, the pickup box consists of roll-formed steel that is lighter and stronger than traditional stamped steel.
To go even further into details, the major aluminum components feature the hood, front steering knuckles, and cylinder heads and engine blocks for both the 2.5L four cylinder and 3.6L V-6 engines. At the front, there is composite grille opening reinforcement with active shutters that seals the front of the truck, reducing aerodynamic drag and improving cooling performance.
The electric power steering not only helps improve steering assist but also contributes for the weight savings. Speaking about the engines, both include direct fuel injection and continuously variable valve timing. The standard one is the 2.5L four cylinder unit which produces 193 horsepower (142 kW), while the available V-6 powertrain generates 302 horsepower (222 kW).
2015 Chevrolet Colorado will be available in dealerships this fall.
Source: Chevrolet