Alfa 8C Competizione by Wheelsandmore
Few have dared to modify the Alfa Romeo 8C Competizione partly because it's such a rare find and partly because it's such a masterful piece of art. Wheelsandmore however, quite ambitiously, have taken up the challenge to spice things up. But even they are cautious about it liking the "Senza-Cromo" (that's how they called their project) to "delicate surgery." The power is up, the suspension is new and the wheels are big – an ordinary formula for an extraordinary car. Applicable on the Alfa 8C Spider as well.
Let's start with the figures first. With an ECU upgrade and a handcrafted, stainless steel exhaust system, Wheelsandmore have been able to increase the output from 450hp and 470 Nm to around 485 hp and 520 Nm. Because of the remote controlled valve flaps on the exhaust pipes, the 8C will even sound right, or at least distinctive.
What can be described as a handling upgrade is the brand new set of wheels – customizable 6Sporz² ultra light wheels (that can come in full carbon). At the front, they measure to 9.0x21-inches while at the back, we have two wider wheels – 12.5x21-inches – wrapped in 345/25/21 S1Evo tires from Hanook.
Improving on the ride (notoriously bad with the 8C) is the new suspension coilover kit – fully adjustable in terms of compression and rebound. Whether this will benefit your lap time or hurt your spine even more (or both actually), remains unknown.
As a finishing touch we have the paint job. It's just that it isn't paint. More like matte white foil. The red and black stripe though, we like that.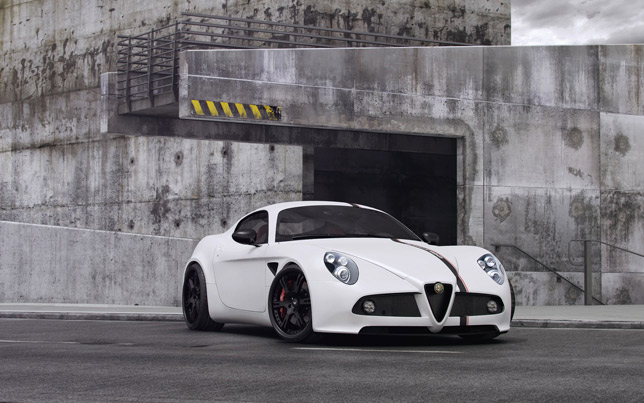 Source: Wheelsandmore