Alfa Romeo Giulietta with TCT Transmission
Alfa Romeo UK has announced the full specs and price list for the 2012 Giulietta TCT.
The Alfa Giulietta is a 5-door hatchback offering cheap and stylish ride. The car is the safest car in its class. It also features award winning MultiAir engine technology, five star Euro-NCAP safety ratings, Alfa Romeo's unique D.N.A system, and now, in 2012, the technologically advanced ALFA TCT semi-automatic transmission becomes available in the Giulietta range. 2012 Alfa Romeo Giulietta TCT starts at £21 855 OTR.
There are two trim levels - Lusso or Veloce, and two engines: 1.4 TB MultiAir 170HP and 2.0 JTDM-2 170HP diesel.
The TCT transmission offers sporty driving pleasure and reduces the fuel consumption a lot. The transmission works in either all-automatic or sequential mode, as required by the driver. The user can manually manage the up and down position of the accurate, ergonomic shifter, with which steering wheel shift paddles may be combined. In addition, the driver can customise the car's dynamics using the Alfa D.N.A. driving selector to enhance its features of comfort, performance, safety and efficiency.
The 1.4 liter TB MultiAir engine has 170HP enabling the car to accelerate from 0 to 100 km/h in 7.7 seconds and a top speed of 184 km/h (135 mph). The fuel consumption is great – 54.3 mpg UK with 121 g/km CO2.
The 2.0 liter JTDM-2 diesel with 170HP is slightly slower – 7.9 seconds to 100 km/h, but the fuel consumption is better – 62.8 mpg UK with 119 g/km CO2.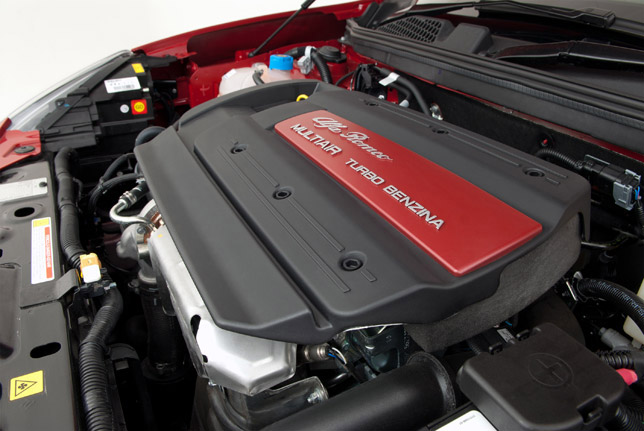 Alfa TCT uses dry clutches allowing, in addition to other advantages, natural integration with Start&Stop, a function which is not always available with traditional automatic transmissions, and which guarantees a further benefit in terms of fuel consumption, particularly around town.
Lastly, a Wet automatic transmission requires approximately 4.8 litres more gearbox oil than a Dry version, again for reasons of clutch cooling. In this way, weight is added and losses are incurred due to an increase in splashing caused by the gears. When all these effects are combined, a Dry transmission, like the Alfa TCT, is found to be approximately 6% more efficient than the corresponding Wet one in terms of consumption.
Check out the full pricing and specifications below.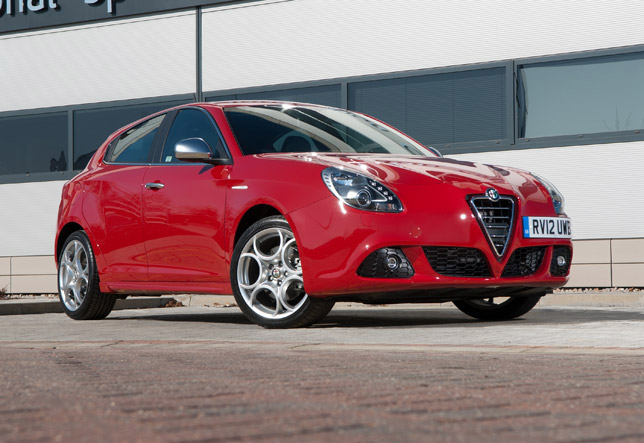 PRICING:
| | | | | | | | | | | | |
| --- | --- | --- | --- | --- | --- | --- | --- | --- | --- | --- | --- |
| | Basic Price | | VAT | | Retail Price | | OTR Charges | | Total OTR | | BIK |
| | | | | | | | | | | | |
| 1.4 TB MultiAir 170 bhp ALFA TCT Lusso | £17,707.89 | | £3,541.58 | | £21,249.47 | | £605.53 | | £21,855.00 | | 15% |
| 1.4 TB MultiAir 170 bhp ALFA TCT Veloce | £18,791.23 | | £3,758.25 | | £22,549.47 | | £605.53 | | £23,155.00 | | 15% |
| | | | | | | | | | | | |
| 2.0 JTDM-2 170 bhp ALFA TCT Lusso | £19,120.39 | | £3,824.08 | | £22,944.47 | | £605.53 | | £23,550.00 | | 17% |
| 2.0 JTDM-2 170 bhp ALFA TCT Veloce | £20,162.06 | | £4,032.41 | | £24,194.47 | | £605.53 | | £24,800.00 | | 17% |
TECHNICAL DATA:
1.4 TB MultiAir 170 bhp ALFA TCT
2.0 JTDM-2170 bhp ALFA TCT
DIMENSIONS
Seats
5
5
Doors
5
5
Length/width (mm)
4350/1798
4350/1798
Height (mm)
1465
1465
Wheelbase (mm)
2634
2634
Front/rear track (mm)
1554/1554
1554/1554
Boot capacity (dm3)
350
350
Drag
0.31
0.31
ENGINE
Petrol
Diesel
No. of cylinders, arrangement
4 in line
4 in line
Bore x stroke (mm)
72 x 84
83 x 90.4
Displacement (cm3)
1368
1956
Compression ratio
9.8:1
16.5:1
Max power output: bhp (kW-EC) at rpm
170 (125) 5500
170 (125) 4000
Peak torque: Nm (kgm-EC) at rpm (NATURAL mode)
230 (23.4) 2250
320 (32.5) 1500
Peak torque: Nm (kgm-EC) at rpm (DYNAMIC mode)
250 (25.4) 2500
350 (35.6) 1750
Timing
Single overhead camshaft, 16 valves, toothed belt with hydraulic tappets and MultiAir direct lift/timing adjustment system
Dual overhead camshafts, 16 valves, toothed belt with hydraulic tappets
Supply
Electronic multipoint injection, turbocharger with intercooler
MultiJet direct injection at 1,600 bar, variable geometry turbocharger with intercooler
Stop&Start system for automatic engine stopping/starting for short stops, to optimise consumption and emissions of CO2
Standard
Standard
ELECTRICAL SYSTEM (12V)
Battery: capacity (Ah) / Generator (A)
63 / 450
72 / 600
TRANSMISSION
Drive
Front
Front
Gearbox
Automatic/sequential with dry dual clutch
Automatic/sequential with dry dual clutch
First
1:4.154
1:4.154
Second
1:2.269
1:2.118
Third
1:1.435
1:1.361
Fourth
1:0.978
1:0.978
Fifth
1:0.754
1:0.756
Sixth
1:0.622
1:0.622
Reverse
1:4.000
1:4.000
Final drive torque
1:4.118
1:3.579
WHEELS
Standard tyre size
205/55 R16
205/55 R16
Standard rim size
7J x 16
7J x 16
STEERING
Steering system
Rack and pinion with electro-mechanical power steering (Dual Pinion)
Rack and pinion with electro-mechanical power steering (Dual Pinion)
Turning circle (m)
10.9
10.9
SUSPENSION
Front
MacPherson independent with anti-roll bar
Rear
Multilink system
BRAKES – (DISCS)
Front (mm)
305
305
Rear (mm)
264
264
WEIGHTS –TANK CAPACITY
Fuel tank capacity (litres)
60
60
Kerb weight DIN (kg)
1305
1335
Max towable weight – Non-braked (kg)
500
500
Max towable weight – Braked (kg)
1300
1300
PERFORMANCE
Top speed mph (kh/h)
135 (218)
135 (218)
Acceleration 0-62 mph (s)
7.7
7.9
Pick-up in top gear from 50 to 75 mph (s)
6.5
6.4
FUEL CONSUMPTION - EMISSIONS (in accordance with 1999/100EC                                          directive)
Urban cycle mpg (l/100km)
42.2 (6.7)
53.3 (5.3)
Extra-urban cycle mpg (l/100km)
65.7 (4.3)
70.6 (4.0)
Combined cycle mpg (l/100km)
54.3 (5.2)
62.8 (4.5)
Exhaust emissions - CO2 (g/km)
121
119
Emissions standard
EURO 5
EURO 5
Service (miles)
18,000
21,000
Source: Alfa Romeo