Alfa Romeo MiTo By Marshall Concept Car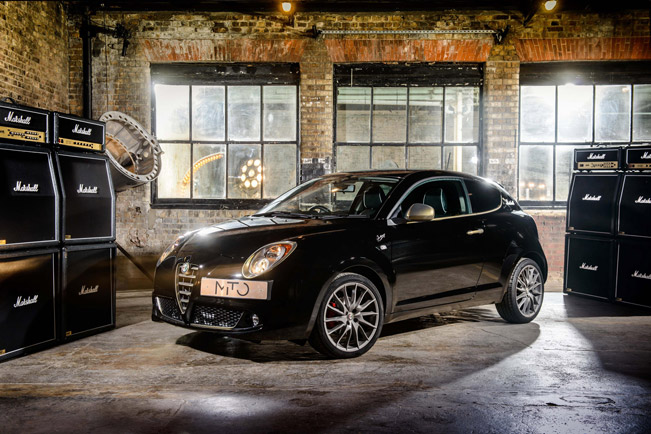 Alfa Romeo MiTo By Marshall is a concept which is a result of the collaboration between the Italian car company and the legendary music brand Marshall Amplification. The car is unique and is inspired by the look and feel of Marshall's iconic amplifier equipment. It even features a powerful Marshall JVM 50w amp head that runs two 12 inch 75w speakers, all of which is installed in the boot! The model has its public debut yesterday – at the screening of Dave Grohl's [Foo Fighters, Nirvana] Sound City documentary at Olympic Studios. The car will be also exhibited at various automotive and music events through the year.
The exterior of MiTo By Marshall sports the iconic gold panel finish of Marshall's equipment. The color can be seen on the grille, front and rear headlight surrounds, door mirror covers, door handles, side door trim and lower bumper trim. There are Marshall badges on each rear pillar as well as Jim Marshall's signature above the side indicators. The rear windscreen includes #LIVEFORMUSIC graphic.
The interior is spectacular and it features a lot of carbon fiber. Just take a look at the pics. Of course, the Marshall styling is continued inside through tread plates on the door sills, a distinctive white piping around the dashboard's centre console and the iconic gold panel finish on the Alfa D.N.A. Selector surround.
The gear knob has been replaced by a classic Shure SH55 microphone. All seats have been upholstered with the same materials used on Marshall's amplifiers. This includes grille cloth on the seat centres and white piping around the inner seat contours. There is close-matching leather on the seat sides, Marshall logos on each front seat as well as special floor mats.
In the boot, the 50 Watt JVM205H amp delivers a two channel preamp: clean/crunch and overdrive. The two independent channels both have three modes, which means that the JVM205H is tonally very versatile. Furthermore, the amp head features two studio quality digital reverbs, two master volumes, and Stompware foot switchable memory, FX loop and master settings.
Alfa Romeo MiTo By Marshall Concept vehicle is built upon the 2014 MiTo Distinctive. It is powered by a 1.6 JTDM-2 120 hp (88 kW) engine. Other touches that were left unmentioned are the 18 inch alloy wheels, red brake calipers, aluminium sports pedals, chrome exhaust pipes and the Uconnect 5 inch colour touch screen infotainment system.
Source: Alfa Romeo