All-in-one Chrysler 300 on it's way
What Chrysler is going to try and do with the new 300 series is to blend style and luxury with affordability and refinement. Sales are expected to start during the first quarter of 2012 with a base price of $40,145.
Two trimmings will be offered when showrooms open up to costumers: the Chrysler 300 and the Chrysler 300 C. Both of these cars can be equipped with either an AWD system or RWD. The more economical and less powerful 300 pumps out 292 horsepower from a 3.6 liter Pentastar V6 while the 300C makes use of a 5.7 HEMI V8 which delivers 363 hp. The latter, Chrysler say, goes easy on the petrol as it employes their Fuel Saver Technology. However, the Pentastar is the one to ask about fuel-efficiency – 23mpg combined (21 for the AWD version). A figure, according to the company, yet unsurpassed in the luxury class.
The company is also proud of it's state-of-the-art 8-speed automatic gearbox which is a first in a "domestic luxury sedan". More yet shorter gear rations means smoother power delivery and a lively throttle response. The AWD segment is clever too as it makes use of all the wheels only when needed while normally the front axle is disengaged from the drivetrain. Transition from RWD to AWD is automatic and barely noticeable. All those factors, the transmission, the drive system, the Pentastar V6, work together to achieve a more powerful and a 17 percent more economic vehicle compared to the previous V6 300.
Visually platinum-chrome touches ornament the fascias, door handles and mirror caps. The grille is also platinum-chrome with lining of the same material. Four polished face, pocket painted, 20 inch wheels (19 inch on the AWD models) bare the weight of the 300 for a completed look.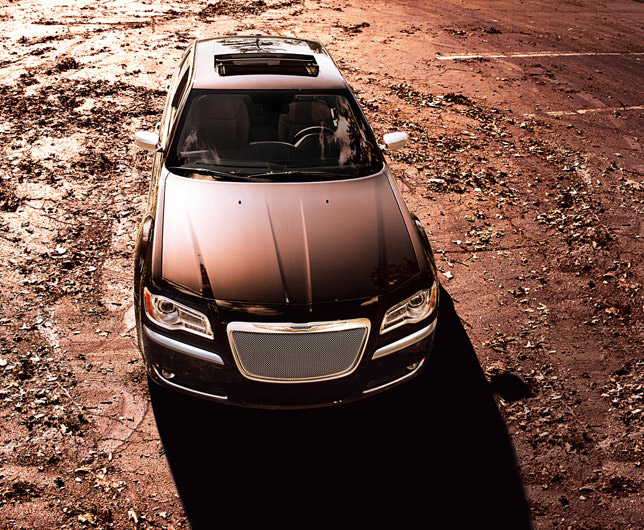 Now that Chrysler is closely associated with Fiat, the 2012 model 300 has had the pleasure to bare  an essence otherwise reserved for Italian exotic vehicles. A more detailed description of the interior offers terms like Mochachino and Nappa which sounds very classy and expensive. Basically the wheel, the dashboard brow, the center console and the instrument panel all participate in a lavish leather feast which continues further back where the black/two toned seats are also wrapped in leather to go with the door and center console arm rests (You guessed it. They are all leather as well). Add to that a chrome lining to the wheel and Natural Pore Mocha wood panels  here and there and things get really executive.
The number of gadgets inside is high. Just to name a few we have heated/ventilated seats, die-cast paddle shifters, touchscreen navigation, electrically adjustable steering column and seats with a memorizing function, LEDs everywhere  and an electrochromic rear view mirror.
Interested? Well here is a quick price list on all four specifications:
Chrysler 300 Luxury Series (RWD) $40,145
Chrysler 300 Luxury Series (AWD) $42,495
Chrysler 300C Luxury Series (RWD) $42,895
Chrysler 300C Luxury Series (AWD) $45,245
Source: Chrysler