This Three-Door Audi A3 is Sportier but More Comfortable than Ever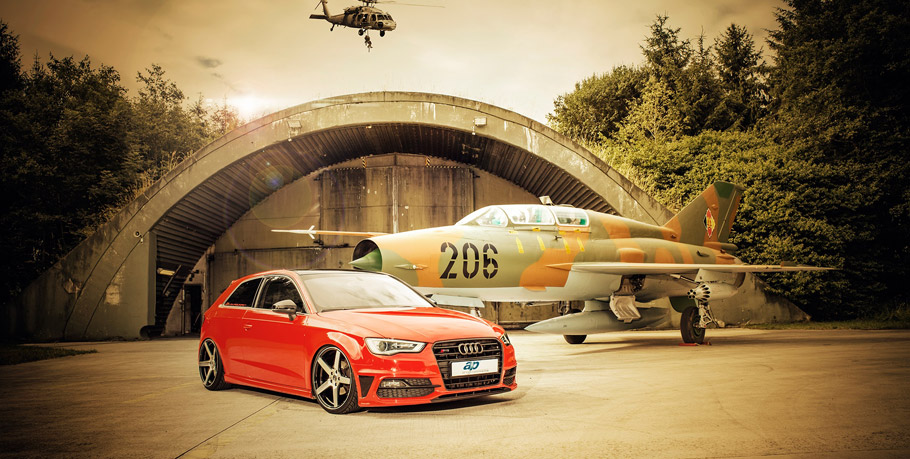 I love when great work is combined with exceptional photography. As I was starring at this picture I actually noticed that it is something I could talk about. As you can see this unique Audi A3 looks so athletic and have this masculine appearance. The reason for this is the work of the tuners at ap Sportfahrwerke.
The car is actually one of those who you can usually see rolling on the city streets of Europe, because of its small dimensions, efficiency and performance capability. This is one of the best marketed models Audi has produced up to date and in my opinion it will continue to do so.
The range of the A3 engines include the top 2.0 liter TFSI producing 300 hp (221 kW) and 380 Nm (280 lb-ft) of torque and sprinting from 0 to 100 in 4.9 seconds on its way to a top speed of 250 km/h (155 mph), the 1.4 TFSI ultra pumping out 140 hp (110 kW) and the 1.6 TDI with 110 hp (81 kW). The power units are available in all four body versions of the A3-line: the three door model, five door Sportback, Sedan and Cabriolet.
SEE ALSO: Audi A3 Clubsport Quattro Concept - 525HP and 600Nm
There is even an A3 Clubposrt Quattro Concept, powered by the 2.5 liter five-cylinder TFSI engine with the astonishing 525 hp (386 kW) and 600Nm (442 lb-ft) of torque. It can accelerate from 0 to 100 km/h in 3.6 seconds and has a top speed of 310 km/h (193 mph).

But what could the specialists at ap Sportfahrwerke do for this unstoppable car. Obviously they took its three-door variant and made it even sportier by bringing it closer to the ground. They have done this via in-house made suspension springs and coilovers.
The coilover kit takes care for an increased driving behavior, while the suspension kit delivers an adjustable lowering of up to 60 millimeter at the front axle and 55 millimeter at the rear axle. The result is that after these minimal changes, the A3 responds even more direct to steering movements. And despite the sporty lowering, the car attains its sufficient comfort.
Source: ap Sportfahrwerke