Aston Martin Cygnet at the 2011 Bridgestone Eco-Rally
Aston Martin will take part at the 5th annual Bridgestone Eco-Rally this weekend.  The manufacturer will take two Cygnet models. The rally showcases the world's best eco-friendly vehicles in association with "Start", an initiative inspired by HRH The Prince of Wales to celebrate eco-friendly living.
Aston Martin Cygnet is powered by a а 1.33 litre dual VVT-I four-cylinder petrol engine with 98PS (72 kW) at 6000RPM and 125Nm (92 lb-ft) at 4400RPM. 0 to 100 km/h takes 11.8 seconds and the top speed is 170 km/h (106 mph). The small city car returns 56.5 mpg, which is exactly 5 litres per 100 km.
One of the Cygnets entering the event will be dressed in Seychelles Blue, the paint colour of the Aston Martin DB6 Mark II Volante recently driven by the Duke and Duchess of Cambridge on their wedding day.  Aside from the two formal entries, a third Cygnet will also be supporting the event in eye-catching "Flouro Orange", the hallmark of London-based designer Tom Dixon.
Driven by Aston Martin Racing regular, Darren Turner and David King, Aston Martin's Director of Special Projects and Motorsport, the two Cygnets will be on the extended route from Exeter College, Oxford to The Mall, London.
The rally begins on Broad Street, Oxford at 10:00 and concludes at 14:30 on the 31st July.
"I have been a fan of Cygnet from the start.  It's a great city car, easy to manoeuvreand park and a lot of fun to drive.", commented Darren Turner.
"To drive Cygnet in a busy city is to experience a car ideally suited to its environment.  Cygnet is tiny, with impressively low emissions but with all the style and craftsmanship of the finest luxury cars.", said David King.
"I'm looking forward to demonstrating Cygnet on the Bridgestone Eco-Rally, maybe it's my one and only chance to beat Darren Turner!", he finished.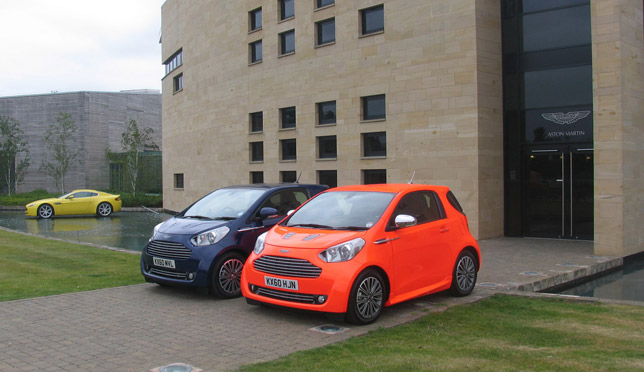 Source: Aston Martin