Audi A3 Eset tuned by Vilner
Vilner has prepared a special promo car for ESET Bulgaria. The project is based on Audi A3, which was put on entire rebuild during two months in Vilner's studio.
ESETs wish was that the corporate colors are kept on the car. It started with a design project of the exterior and interior. In the course of the work, all the modified bumpers were removed – the aim was to keep the vision of the A3 at the maximum, so that the emphasis remains largely on the colors and some elements of the exterior.
The main color of the car body is pearl white with gray-blue nuances. Red and turquoise were used primarily for the accents. The rims are new - MAK 17 ", and were also precisely lacquered in white and turquoise. The ESET logo appears on the front doors. The decorative grid in blue catches the attention to the new Hella headlights, the original stop lights were replaced by new InPros.
The interior features high-quality Nappa leather and Alcantara as the main color inside is black. Decorative white edges emphasize the seats and inlaid mats. The dashboard was also covered with Nappa and Alcantara and enriched by a precise turquoise seam. The steering wheel was given a new and ergonomic design, both handmade. The seams on the seats, the car door and inside the trunk do reflect the elements of a robot – the symbol of ESET. The same is printed on the bright Alcantara headliner.
The speedometers are new, and are on company's colors. Samsung Android Galaxy was installed in the middle console, playing the role of a mobile office – it also shows the mapping of the front and rear camera. The metal was painted with matt turquoise, but purposely - it corresponds with the door elements, the gear change, and the dash air vents.
The car body is isolated and soundproofed, which ensures the full enjoyment of quality music Ground Zero and AudioSon processor.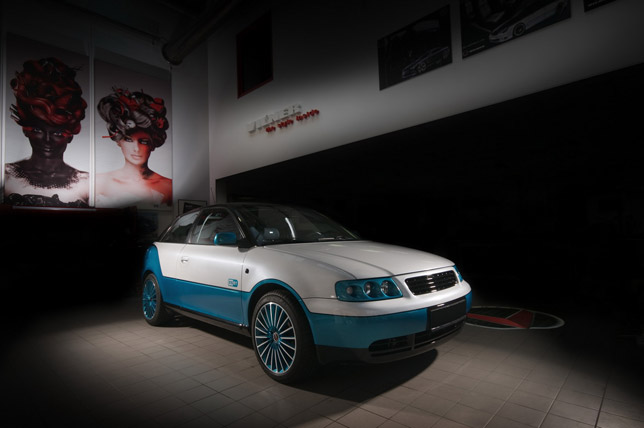 Source: Vilner