Audi A8 L High Security
Audi A8 L Security will carry some very important persons, when it go out.
In fact, it is a standard A8 L, but with 720 kg of armour including armored steel, polycarbonate-coated multilayer glass, reinforced side sills and acres of aramide fabric. However, this is not everything - the door and window modifications add additional 660 kg. Thanks to these upgrades, the car is certified for VR 7 class ballistic protection. In other words, it means that it will resist from AK-47s to hand grenades.
Other upgrades are an emergency exit system, an emergency fresh-air system, a fire extinguishing system, LED signaling system,  a siren and a two-way communication system.
The standard extras are also available - four-zone climate control, a Bose audio system, a TV tuner, and two individual rear seats with power adjustments. A8 L also boasts a full-length center console, a refrigerator, a rear seat entertainment system, and a relaxation seat with heating, massage, and a power-adjustable footrest.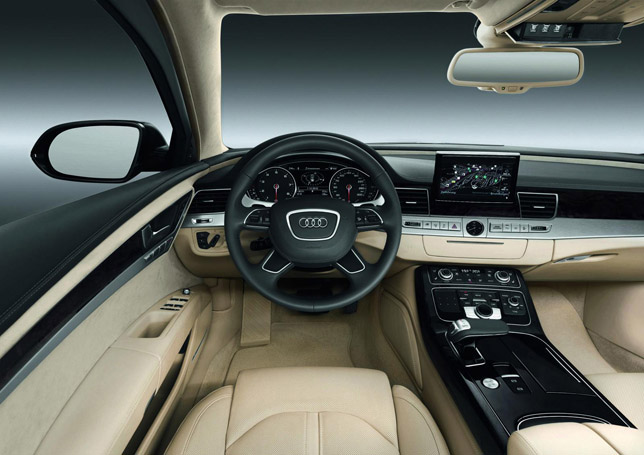 Probably, the new mighty 6.3 liter W12 with 500PS (368 kW) and 625Nm (461 lb-ft) will handle all new weight. The performance suffers a little - 7.3 seconds to 100 km/h and a top speed of 210 km/h. However, there will be a diesel version with a 4.0-liter V8 TDI.
Audi A8 L Security will hit the market this summer.