Audi Celebrates Half Million TT Cars With Special Edition TTS Competition Model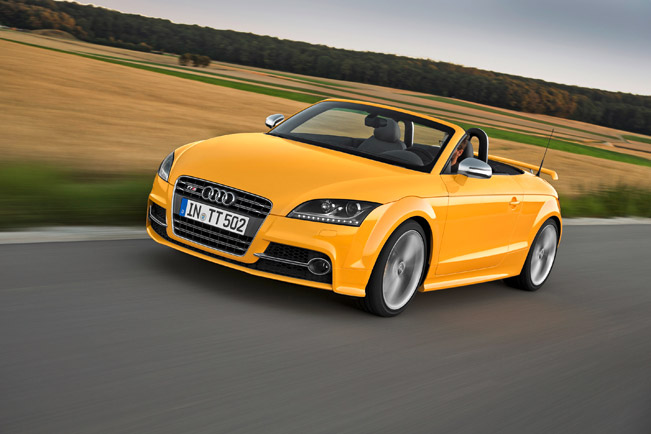 Half Million Audi TT models have been built so far. In order to celebrate this, Audi is releasing an exclusive special edition model – the Audi TTS Competition which is in Coupé and Roadster form.
The TTS Competition will be capable of generating 272 horsepower (200 kW) and will begin rolling off the assembly line in October. Only 500 example of the model will be produced. The new model will be available in special paint finishes Imola yellow or Nimbus gray.
In addition, a special highlight of the exterior is the fixed rear wing with bars in a matt aluminum-look finish. The Roadster's top is available in either Black or Gray. The vehicle runs on 19-inch wheels which include a five-arm "Rotor" design and are matched with 225/35 tires.
The interior of the TTS Competition includes Impulse leather package in steel gray. It also utilizes the characteristic leather bands as decorative elements. Their cut edges are dyed Imola yellow, and the same color is used for the contrasting stitching. To make the model even more special, Aluminum badges on the door trims are embossed with "1 of 500" number.
Furthermore, a leather multifunction steering wheel and the rear parking system, round out the equipment. The other features included in this special edition Audi are those found in the TTS.
As already mentioned, the car is capable of producing 200 kW (272 hp). It also generates 350 Nm (258.15 lb-ft) of torque, thanks to its 2.0 TFSI engine, which underscores the dynamic character of the Audi TTS competition.
This unit is matched with a six-speed S tronic transmission. The vehicle in its Coupe form can accelerate from 0 to 100 km/h (62.14 mph) in only 5.3 seconds. The average fuel consumption for the Coupé is 7.7 liters per 100 kilometers (30.55 US mpg).
On the other hand, the Audi TTS Competition Roadster equipped with the six-speed S tronic sprints from 0 to 100 km/h (62.14 mph) in 5.5 seconds. The Roadster consumes 7.9 liters of fuel per 100 kilometers (29.77 US mpg). What is more, the quattro permanent all-while drive is also to be found here. The top speed is electronically limited to 250 km/h (155.34 mph).
Source: Audi