Audi TT Clubsport Debuts at Wörthersee

Audi has just released a video showing more of its Wörthersee concept – the TT clubsport turbo. Next to it, the company will also display some of the latest race cars, performance and production models. However, the highlight for Audi at this event is the TT clubsport turbo, which is a technical concept that combines a powerful TFSI engine with an electric biturbo.
As we told you earlier this week, the concept features wide add-on parts, rear wing and the capability of pushing out more than 600 horses, which equals to 441 kW. In addition, the car has been inspired by 80s show car, the 90 IMSA GTO.
SEE ALSO: Audi is About to Show Its Latest Concept Sports Vehicle 
At the heart of this Audi TT is the 2.5 TFSI engine, producing 600 hp and 650 Nm (479 lb-ft) of torque. In fact, more than 600 Nm of torque are available between 3,000 and 7,000 rpm. The power is transferred onto the road via a manual six-speed transmission.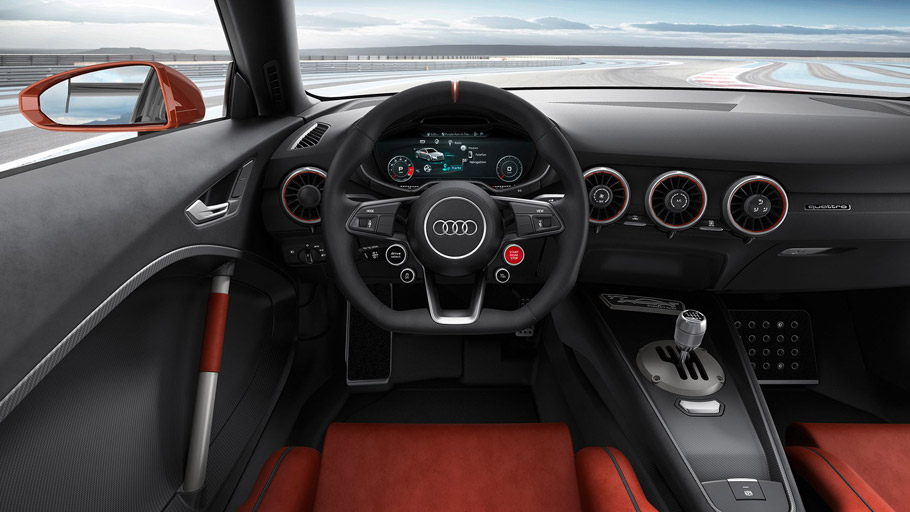 When this power is combined with lightweight design (the car weighs only 1,396 kg), the result is simply marvelous: it can sprint from 0 to 100 km/h (62.1 mph) in 3.6 seconds on its way to a top speed of 310 km/h.
Now take in mind all of the aforementioned data and mix it with the advantage of an electrically driven compressor. The result is that the car will cover 16 meters (52.5 ft) within the first 2.5 seconds. In comparison, without this addition the number will be minus six meters (19.7 ft).
Other data that should be said about this concept is that it rides on 20-inch alloys with six twin-spoke design in a two-color gloss turned finish and matt black look. The will be coupled with 275/30 tires, behind which we see carbon-fiber ceramic brake disks, measuring 370 mm (14.6 in) in diameter.
We did a lot of talking about this car and if you want to remind yourself some important details about it you can go back to the previously released article.
Source: Audi