Audi S Competition Package for the TT Coupe
Your regular Audi TT can now be one step closer to the gods (the gods being the TTS and the TT RS) with the special edition Audi TT Coupe S line competition. Quite a mouthful but it might just be what makes the difference between mediocrity and exclusivity.
On the outside, a TT S line can be recognized by it's distinctive bumpers and air inlets and side sills. There are also S line badges, specially designed tailpipes and a rear diffuser. Even more downforce can be generated by the RS-style fixed rear wing. The colors in which the TT S line comes sound rather sophisticated and pompous - Samoa Orange, Glacier White and Misano Red (the one here) just to name a few. As a contrast high-gloss black frames the front grille while matte black is used for the license plate, the radiator grille. Again high-gloss black adorns the mirror caps, the blade bellow the front bumper, the diffuser insert, the tailpipe trims and the rear wing spoiler. And the 5-spoked, 19-inch wheels are, you guessed it, also black. The whole stance is lowered by 10 mm so the 255/35 tires look even more impressive.
Inside, you get special door sill trims, an extended aluminum look trim, a leather package (there's Alcantra involved as well, sports seats and a short traveling gear lever for the manual version. Even the steering wheel has an RS feel to it with it's flat bottom and it's leathery trim.
The Audi TT Coupe S line competition special edition is now available on the global market and one has the freedom to throw in any other options and trim lines at free will. The S line package is priced at 4,300 Euros ($5,422) and is applicable to all the models until the 211 bhp TT.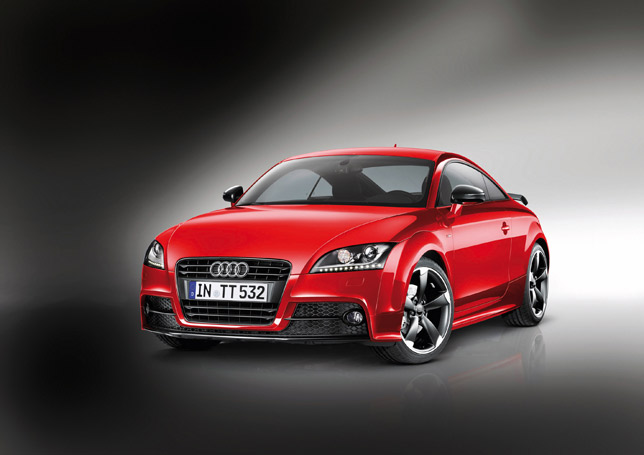 Source: Audi