Audi TT Roadster to be Manufactured at Audi Hungaria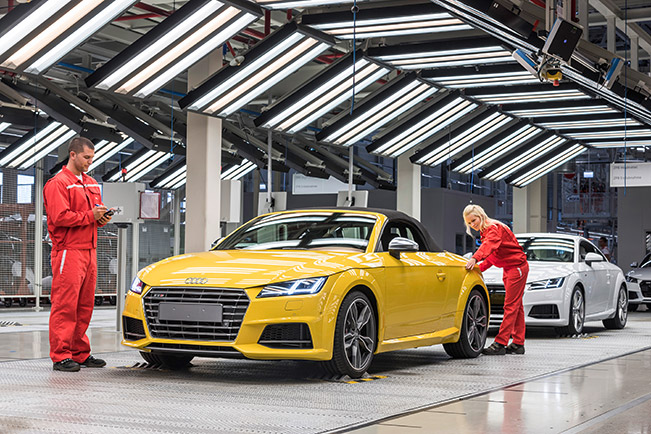 Audi TT Roadster is the fourth Audi model after the A3 sedan, A3 Cabriolet and Audi TT Coupe which will go into series production at the new automobile factory in Győr. Audi CEO Rupert Stadler pointed out that Győr plays a significant role in the development of Audi's global production network. The automobile production in the Hungarian city has been operating since June 2013 and it adds up to the already existing engine production there.
The compact two-seater Audi establishes an innovative benchmark in the sense that it comes with original design, improved powertrain, better suspension and useful technologies. For instance, the new Audi comes with a virtual cockpit which underscores the design of the car. This digital display combination replaces physical instruments and gathers all the relevant information in the driver's field of vision. The TT Roadster has already been praised for this original display and operating system with the Car Connectivity Award and, also, the prize for Interior Innovation of the Year in the Automotive Interiors Expo Awards. In addition, TT Roadsters are powered by either a 2 liter TDI delivering 184 HP, 280.3 lb-ft (379 Nm) or 2.0 TFSI rated which produces 230 HP. The car has a combined fuel consumption of just 4.3 to 7.5 liters/100 km (54.7 US mpg) which reaches CO2 emissions from 114 to 174 gr per km.
Audi Hungaria was the first branch planted outside of Germany about 21 years ago. Its commencing marked the company's further development in a worldwide aspect and helped for the development of Audi's international influence and presence. So far the successful background and results prove that this decision could not have turned out any better.
Source: Audi