Barris Kustom opens new chapter with its 2010 Chevrolet Camaro Spirit
At the Community Chevrolet - one of the oldest Chevrolet dealerships in California – this weekend, George Barris himself presented the first Barris Kustom 2010 Chevrolet Camaro "Spirit". The highly modified "kustom"-styled 2010 Camaro represents a huge step in the availability of unique rides from the renowned Barris Kustom American cars design house.
George Barris said…"Barris Kustom has entered a new chapter by delivering affordable "kustom" vehicles direct to the dealer showroom."
Barris' company has been engineering one-of-a-kind rides for over 60 years. Proud maker of vehicles such as Batmobile, Munster Koach, Beverly Hillbilly truck, Knightrider KITT and others, Barris Kustom's favourite thing is to re-style and improve new cars from Detroit.
"Today many kustom vehicles have entirely too much work done on them," said Barris. "I believe we have succeeded in developing a kustom vehicle with just the right amount of features keeping it affordable to the automotive enthusiast while being made in the USA."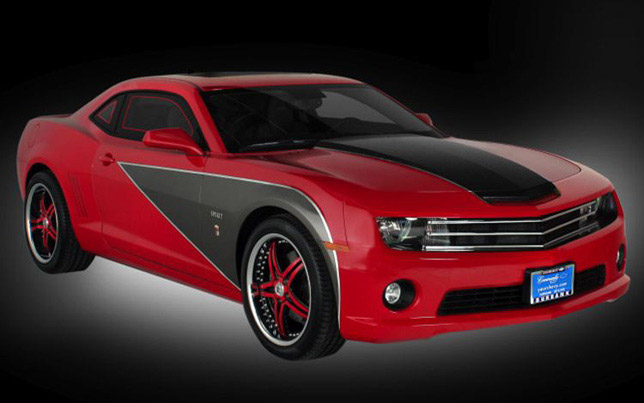 Barris Kustom 2010 Chevrolet Camaro "Spirit" Mod List:
Kustom painted hood with deep pearl and metallic accents emphasizing wide, aggressive stance of the 2010 Chevrolet Camaro.
Kustom painted front fenders and doors. The aerodynamic "Spear" blurs the vision with a striking burst of speed.
Kustom 3 bar chrome legend grill.
"Spirit" name is added to both fenders along with Barris Kustom Crest insignia.
Barris Kustom dash plaque hand signed by George Barris.