B&B Automobiltechnik Improves the Audi TT 8S 2.0 TFSI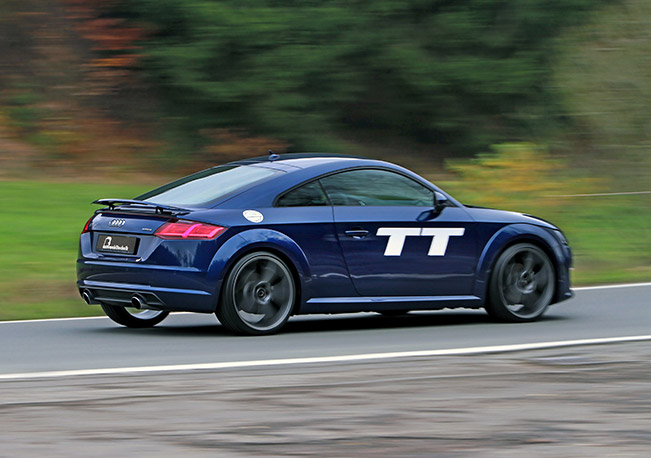 Despite the fact that the third generation of the iconic Audi TT has not been around the sales rooms for too long, the performance professionals of B&B Automobiltechnik from Siegen are delivering a tuning portfolio for the progressive Audi TT vehicle.
Following several progression-steps, the B&B provides the Audi TT 2.0 TFSI with a power-boost from 230 PS to 360 PS. The initial 370 Nm of torque jumps to the very impressive 500 Nm of peak torque. The acceleration time is ready to score some mind-blowing rates too for the car can speed up from 0 to 100 in the screaming 4.8 seconds. What is more, the 0-200-km/h-value is improved from 24.3 to 17.4 seconds. With a maximum speed increased from 250 km/h to 276 km/h, the tuned Audi TT is able to rock your world!
The B&B motor programme for the Audi TT 8S is firstly marked by the stage 1K (Comfort, 1,198 Euro). It increases the power output of the 2.0 liters four-piston turbo motor to 300 PS and 420 Nm. Next, the TT gains even better dynamic highlights with the B&B-stage 1S (Sport, 1,698 Euro) which mobilizes the power to 310 PS and 435 Nm.
326 PS and 450 Nm are possible in B&B-stage 2 (3,950 Euro) by installation of an enlarged and cross-section optimized B&B-special exhaust tube, comprised of sport catalyser and increased charge pressure by approx. 0.25 bar with adjustment of the electronic injection parameters.
Finally, stage 3 includes the currently developed performance pack of the B&B programme for the new Audi TT 8S 2.0 TFSI (9,950 Euro) at 360 PS and 500 Nm. This power package includes B&B special turbo charger with in-house charging air cooler, brand-new air intake system and a B&B sport exhaust system with exclusive exhaust pre-tube and racing sports catalyser.
The tuner B&B offers a sports spring set (from 298 Euro upwards) to lower the car body by approx. 30 mm at the FA and by approx. 25 mm at the RA, or, as another option, a B&B-threaded chassis for the new Audi TT. The driving dynamics are perfected and finalized with weight-optimised rims in the 10x20 inch format with tyres sized 265/30R20.
Source: XMedia-Group