BF Performance Bentley Continental Flying Spur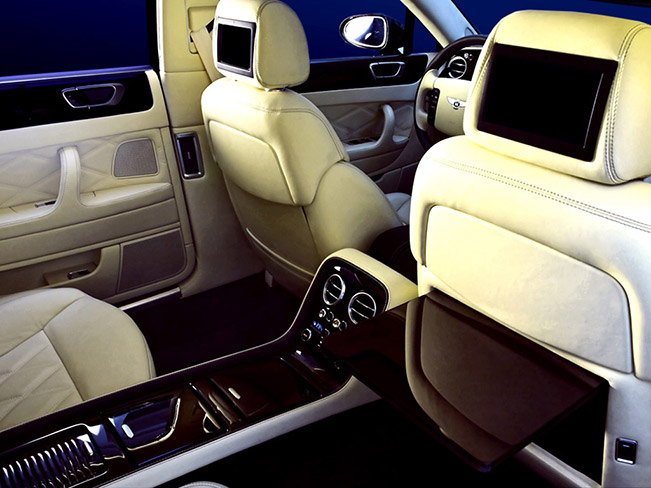 We are proud to announce that we will be presenting a Bentley Continental Flying Spur with several BF-Performance features at the Geneva Motorshow this year. The car is fitted with electrically controlled curtains for the rear side windows and the rear window, electrically controlled picnic tables and a large fridge with ice maker fitted in the rear.
The curtains are finished in dual colours. The outside curtain is normally black and the interior matches the Bentley colours. The curtains can be controlled by the driver from the front seat via the rear electric window switches. These switches are now furnished with the second function to open the rear site curtains. Each of the rear doors has also an individual switch for the curtain in that particular door so that the customer can open and close the curtain himself. The two piece rear window curtains are controlled by the original rear blind switch.
The electric picnic table which we supply can be finished in leather or veneer matching the interior of the car. The advantage of this table is that it can be set up in any position the passenger wants and is large enough to accommodate a lap top. So in this case the position of the front seat back rest does not matter.
The large fridge with ice maker has been designed as a removable item. The fridge is over double the size of the fridge normally available and fits with access through the rear armrest. It is easily removed for the winter allowing use of the ski bag again.
The car is also fitted with a set of chrome lower grills and imposing 21inch wheels. It has been lowered by 15mm. BF-Performance provides many other optical and performance options for the entire Bentley range. Do not hesitate to contact us for your individual requests.