Blistering Cts-V Launches Into The Uk: Cadillac Supersaloon's Prices Announced
The all-new CTS-V 'supersaloon' – the most powerful Cadillac ever – is available from February 2009 and will be priced from £56,495 on-the-road (£58,995 for the automatic transmission model).
CTS-V's supercharged 6.2-litre V8 engine delivers 564 ps (415 kW) and 747 Nm, launching the car to 60 mph in just 3.9 seconds and on to 191 mph where legal (175 mph for the automatic transmission). Its incredible performance capabilities enabled the CTS-V to claim the unofficial lap record for a production saloon (7 mins 59.32 secs) around the Nürburgring's legendary Nordschleife circuit in October 2008.
"The CTS-V represents the extreme extension of Cadillac's current design language and its performance technology capabilities," said Jonathan Nash, director in charge of Cadillac UK. "The V-Series developments take the highly accomplished CTS launched last summer and elevate it to a position within the club of the world's high-performance supersaloons."
Working in harmony with the extraordinary power unit is the latest generation of the world's fastest-reacting suspension technology, Magnetic Ride Control (MRC), which uses shock absorbers controlled by electro-magnets, rather than mechanical valves, greatly accelerating response time.  CTS-V is also equipped with powerful Brembo brakes; mighty six-piston callipers act on colossal 380 mm discs at the front, and four-piston callipers on 373 mm discs at the rear.  These impressive features, along with four-channel ABS, hydraulic brake assist and dynamic rear brake proportioning, ensure that the immense performance capability of Cadillac's most powerful model in history is delivered within a package of equally advanced vehicle dynamics technologies.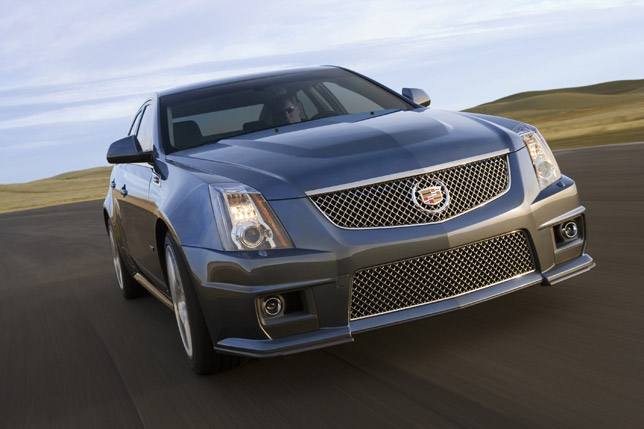 Complementing its incredible performance, the left-hand drive CTS-V also delivers the refinement of a fully appointed prestige saloon.  New, 14-way adjustable Recaro® performance driving seats, high quality 'hand cut-and-sewn' double stitched leather and sueded material, and a distinctive new high-gloss black Obsidian surface finish, all combine to deliver an exceptionally luxurious, comfortable cabin.  Other features include a premium voice activated infotainment package featuring intelligent iPod® integration, 40 GB hard drive and an advanced hard-disk navigation system.
The CTS-V's single luxurious specification combined with astonishing performance capabilities and technologies delivers an exceptional driving experience for even the most demanding motorist.