BlueMotionTechnologies – Volkswagen presents a new world of efficiency
BlueMotionTechnologies bundles Volkswagen's best environmental technologies of today to fulfill the automotive aspirations of tomorrow. These are developments such as the new start-stop system and energy recovery by regenerative braking, electric drives and hybrid systems as well as clever drive systems like the one in the new TSI EcoFuel. To the point: its aim is no less than to bring the cleanest and most economical cars to the streets.
Today, BlueMotionTechnologies are already being launched on the market in three extremely fuel efficient and clean Passat versions: Blue­Motion with fuel consumption under 5 liters, EU-6 conformance in the BlueTDI, and the TSI EcoFuel that emits just 119 g/km CO2. Consider these examples:
Passat BlueMotion: Here a common rail TDI (81 kW/110 PS) provides for 4.9 liter fuel consumption and CO2 emissions of just 128 g/km. The Passat BlueMotion (starting at 26,750 €) has a Start-Stop system and conforms to limits of the Euro-5 emissions standard. Its range of over 1,400 kilometers on one tank of fuel is a minor sensation – travelers starting out in Berlin will not be looking for a gas station until shortly before Rome. Naturally, the Passat BlueMotion will also be available as a wagon (starting at € 27,900).
Passat BlueTDI: Its 105-kW diesel is ahead of its times; that is because Volkswagen is introducing the first TDI to conform to limits of the Euro-6 emissions standard that does not take effect until 2014. Aboard the Passat BlueTDI (starting at € 29,225), a SCR catalytic converter reduces nitrogen oxides to less than 80 mg/km. Fuel economy of the sedan shifted by a 6-speed gearbox: 5.2 liter/100-km (CO2 emissions: 137 g/km). Further options: the "BlueTDI" will also be available as a wagon (starting at € 30,375), and it will be available with a 6-speed DSG.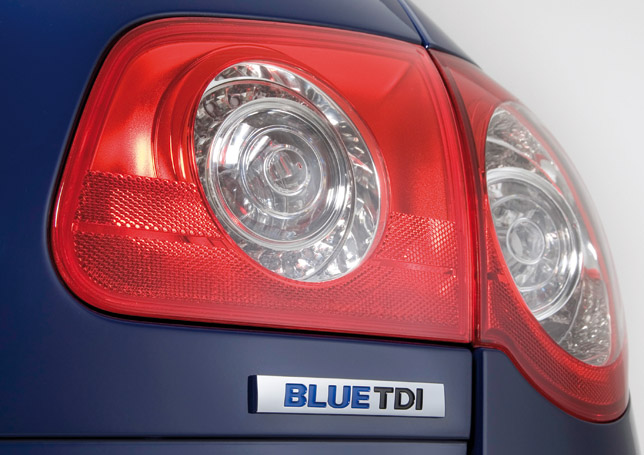 Passat TSI EcoFuel: The Passat TSI EcoFuel is ushering in a new era of cars powered by natural gas. Until now, one of the drawbacks of cars powered by natural gas is that their performance can be rather unexciting. Thanks to its 110 kW strong high-tech engine, the Passat TSI EcoFuel combines a maximum speed of 210 km/h with excellent fuel economy and finally puts an end to these limitations. The car accelerates to 100 km/h in just 9.7 seconds. Despite its great agility, the world's first turbocharged and supercharged direct-injection engine configured for natural gas operation is satisfied with just 4.4 kilograms of natural gas, which is about € 4.25 per 100 kilometers. With a 7-speed DSG, the Passat breaks the magic CO2 limit of 120 g/km in this class (6-speed transmission: 4.5 kg/100-km and 123 g/km CO2). If the natural gas on board should run low before the next fill-up station, the engine controller switches over to gasoline mode. The car has a total range of more than 900 kilometers. The Passat TSI EcoFuel will be offered at a starting price of € 29,975; on the Wagon it is € 31,125.
Touareg V6 TSI Hybrid. Because the future of the automobile – and Blue­MotionTechnologies as well – offers more than just one answer, in parallel Volkswagen is presenting a prototype of the future Touareg V6 TSI Hybrid (333 PS / under 9.0 l/100 km). This car will enter production in 2010 as the world's first hybrid SUV to have 3.5 metric ton towing capacity. Volkswagen is introducing one of the highest performance parallel hybrid systems in the world in this SUV. The German carmaker is utilizing a high-tech alliance of a V6 TSI (245 kW) boosted by supercharger and an electric motor (38 kW). Up to a speed of 50 km/h, the Touareg V6 TSI Hybrid can be driven by just the electric motor. In this case, no emissions are generated.