BRABUS 700 Biturbo
At the display of the 81st edition of Geneva Motor Show, Brabus, the famous German tuning specialist has introduced its newest development, the BRABUS 700 Biturbo based on the stellar Mercedes SLS AMG.
Sporting the deluxe WIDESTAR wide-body kit, the amazing BRABUS 700 Biturbo packs a next-level high-tech turbocharger system (B63 bi-turbo) for its M 159, liquid-cooled V8 Four-stroke engine, boosting its output figures to the mind-boggling 700 horsepower (514 kW) and 850 Nm (626 lb-ft) of max torque, and top speed of 340 km/h (213 mph). Moreover, the BRABUS 700 Biturbo's power compartment benefits a generously dimensioned intercooling system with two water-to-air heat exchangers, optimized air filters and air filters housing, as well as re-programmed engine management unit and ultra-light titanium-made BRABUS high-performance exhaust system that has four slanted tailpipes with diameters of 84 millimeters.
On the road, the Brabus-tweaked masterpiece is able to sprint from zero to 100 km/h in just 3.7 seconds flat, while reaching the 200 km/h barrier in 10.2 seconds. V-max is 340 km/h.
Adding even more emphasis and extra handling on the retrofitted SLS, are 20- and 21-inch Monoblock F PLATINUM EDITION rims wrapped in high-performance tires by Pirelli or YOKOHAMA in the sizes 275/30 ZR 20 and 295/25 ZR 21 respectively at the front and rear axle.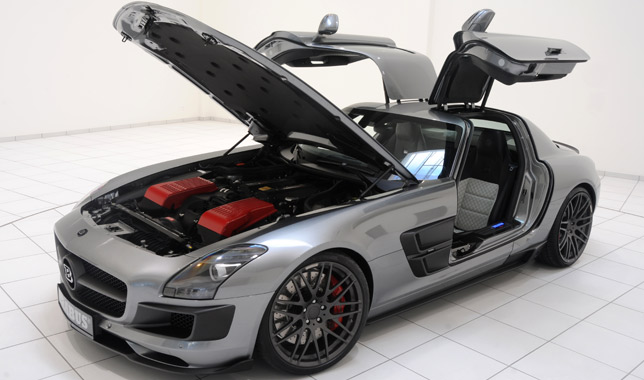 Additionally, the BRABUS 700 Biturbo also sports a specially developed BILSTEIN suspension, which lowers the ride-height by up to 30 millimeters, and BRABUS sport stabilizers.
In the terms of interior wealth, Brabus has fitted the SLS with individual upholstery from leather and Alcantara, an ergonomically shaped sport steering wheel, a speedometer with 400-km/h, shiny carbon-fiber elements and matte anodized aluminum pedals and foot rest.
Source: Brabus