2012 Brabus Smart 10th Anniversary Special Edition
In the not so distant 2002, Smart and the tuning company Brabus founded a joint company, and since then they have developed numerous premium models. To celebrate the 10th anniversary of the alliance, they have created a unique and exclusively equipped "10th anniversary" special edition model.
2012 Brabus Smart 10th anniversary Special Edition will be limited to 100 units and will offer numerous exclusive highlights. The Smart is based on the current Smart Fortwo BRABUS production model with 75 kW (102 hp) and maximum torque of 147 Nm (200 lb-ft). It has a top speed of 155 km/h, and can accelerate from 0 to 100 km/h in 8.9 seconds.
To go further into details, the "10th anniversary" edition is painted in liquid silver. In details, the tridion safety cell, body panels including front grille and the door mirrors of the special edition model, the front spoiler and side skirts in the styling package, are painted in liquid silver.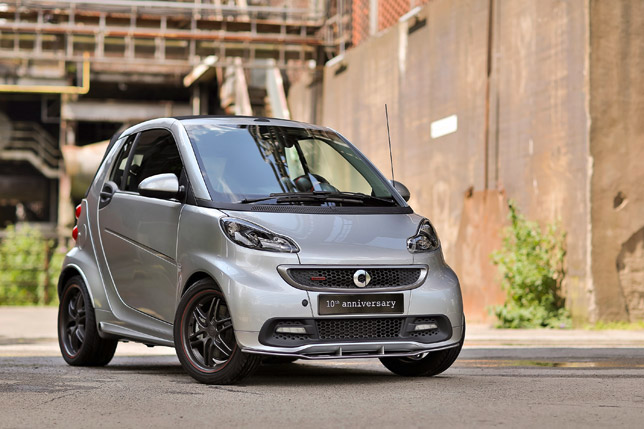 Further exterior features include titanium-colored headlamps and red BRABUS logos at the front and rear. Additional exterior accents include titanium-colored headlamps and red BRABUS logos at the front and rear.
The interior is of course distinctively made as well. It is characterized by a black leather interior with high-quality hand stitching. The trim parts are painted in an exclusive red and the contrast components and seat console come in black.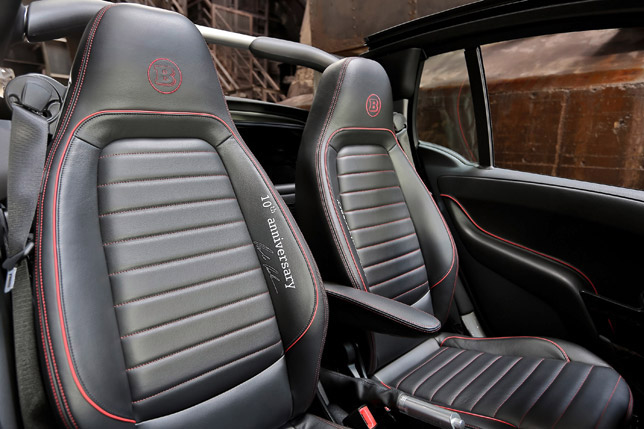 The standard equipment of the new Brabus includes the comfort and light package, heated seats, electric power steering, LED daytime driving lights, audio and navigation system and BRABUS Monoblock VII alloy wheels in matt grey.
Smart Brabus GmbH is a joint venture between Smart and Brabus and stands for premium automotive enhancement. In the past ten years more than 50 000 lucky customers benefited from the vehicles produced by the cooperation of the both companies. In fact, 2011 was the most successful year up to date when more than 10 000 Smart Fortwos were customized by Brabus.
Source: Smart