C200 concept points to the future for SsangYong
The C200 concept, unveiled last week at the Paris Motor Show, is the first indication of SsangYong's future direction in broadening its range and offering European customers greater choice. It follows the South Korean manufacturer's announcement earlier this year that it plans to introduce 20 new models on five different platforms, between 2009 and 2014.
The SsangYong C200 is quite unlike anything seen from SsangYong before. The C200 is a modern, contemporary urban passenger car with styling by Giugiaro's ItalDesign in Italy. It is similar in size to a Toyota RAV4, a Honda CRV and a Nissan Qashqai and with a 2,640mm wheelbase, is slightly longer than a VW Tiguan.
The C200 is also a departure from current SsangYong models in that it uses monocoque construction to ensure a passenger car look, feel and comfort. The platform is adaptable, so while the C200 uses four-wheel drive, the chassis can also be used for a front-wheel drive passenger car.
The drivetrain is completely new. An advanced 2.0 litre diesel engine has been designed for lower noise levels and reduced vibration, and is mated to a six speed manual transmission. The engine produces 175 hp and complies with Euro V exhaust emissions requirements as well as producing lower CO2 levels.
Extensive use of aluminium suspension components reduces weight and together with a low centre of gravity, ensures a comfortable and compliant ride with the kind of sharp and agile handling demanded by European drivers.
Paul Williams, managing director of SsangYong distributors Koelliker UK said: "This is much more than just a concept car. It marks a sea change for SsangYong with a move to monocoque construction, new engines and transmissions and adaptable platforms. It is also a strong signal of future intent that will see a wider and more contemporary line-up that will be able to compete aggressively in Europe. SsangYong has said that it plans to develop the vehicle into a strategic global model."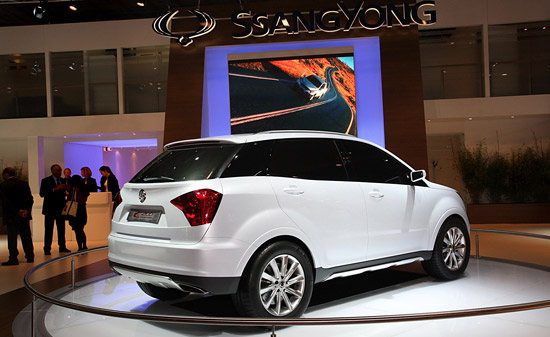 The C200 model tag represents the trend towards more compact and convenient city cars with a younger, urban relevance. It is designed to be very comfortable with the best possible use of space, while retaining a design elegance and sophistication that sets it apart from current offerings.
The C200 is the first tangible result of co-operation with Shanghai Automotive Industry Corporation (SAIC), which merged with SsangYong four years ago. The relationship is likely to see the release of a steady stream of new products, with the intention of becoming one of the global leaders in product development, production, sales, and service.
C200 specification
| | |
| --- | --- |
| Overall length | 1810mm |
| Overall width | 1685mm |
| Height | 4400mm |
| Wheelbase | 2640mm |
| Engine | 2.0 diesel, 1999cc |
| Max. power (hp) | 175 |
| Max. torque (Nm) | 370 |
| Drive system | 4wd |
| Transmission | 6 speed manual |
| Wheels & tyres | 255/60/R18 |