Carlsson Mercedes-Benz E-class Cabriolet
Carlsson has announced the special styling and peformance packages for the latest Mercedes-Benz E class Cabriolet. The luxury open-top received unique exterior as well as 20 per cent more power and some fine touches for the interior.
The perfromance package includes the additional ECU C-Tronic® DIESEL POWER, which is plug-and-play device boosting the V6 diesel engine from 231PS (170 kW) to 280PS (206 kW) and the torque is 648Nm, instead of 540Nm. The ECU CD35 REVO for the Mercedes 350 CDI engines is delivered by Carlsson as a completely retrofittable solution inclusive of all materials for connections and montage. The price is 1784 Euro.
The tuning company also offers sport end mufflers with the two double-walled stainless steel end tubes. They priced at 2319 Euro.
The styling package includes the new aerodynamic package consisting of a front spoiler - 594 Euro and a front spoiler lip RS for 629 Euro. The rear spoiler is priced at 475 Euro.
The suspension upgrade includes sports springs for 355 Euro. These lower the Mercedes-Cabriolet with 30 mm and significantly improve the stance of the car.
Carlsson Mercedes-Benz E-class Cabriolet stands on either classic 16-spoke wheels in 18", or 1/5 REVO again in 18" and big 1/10 Ultra light 20" alloys. The set fitted with brand new tires starts at 2712 Euro.
Inside, the tuned Merc can be individualised with automatic gear shift lever in leather and Alcantara – 213 Euro, aluminium door pins – 58 Euro, the soft velvet doormats with the Carlsson logo – 154 Euro and aluminium pedals together with footrests – 282 Euro.
Carlsson delivers all products with certificates by the German Technical Control Board (TÜV), so that these can be entered without any problems in the vehicle documents.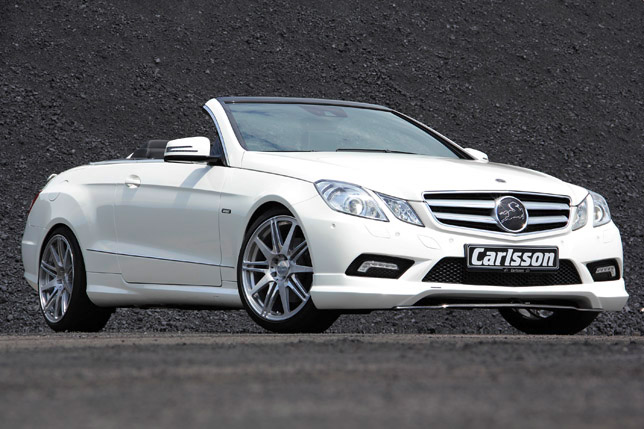 Source: Carlsson