Chevrolet on Cruze control with vital new model
GM executives are calling their new four-door sedan "the most important car in our history." But which four-door sedan do they mean? Not the electric Volt, for all the importance attached to its eco-friendly credentials. GM is in fact referring to the Chevrolet Cruze, its new C-segment saloon. And while the car has nothing like the hi-tech content of the Volt, GM believes it's the car that can help steer the company through the Credit Crunch.
It's a truly global car – designed and engineered by GM-Daewoo in Korea. It's effectively the replacement for the Lacetti, but it's a lot more than that, both in terms of design, fit and finish. In the US market in particular, it'll allow Chevrolet customers to downsize from the larger Impala saloon – without compromising on quality.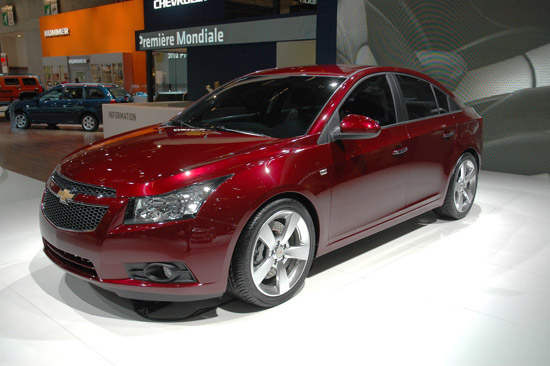 And in that respect, the Cruze is the modern equivalent of the Chevrolet Caprice. While Cruze may be a lot smaller than the big old GM model so beloved of US police forces and taxi drivers, it's worth remembering that the Caprice itself was originally conceived as a downsized American car during the 1970s oil crisis. It's big by today's standards, but in 1977, the Caprice looked a lot smaller than the highway leviathans that were built in the early '70s.
The four-door Cruze on show will be the main seller, not just in the US, but in Asia too – big markets such as China and Japan favour the saloon style – which is why it's being launched before the Europe-oriented five-door hatchback and estate versions, which will break cover next year.
"It's an all-new vehicle that has been globally developed for a global market." says Peter Mertens, global vehicle line executive for compact cars. The Cruze is the first car to be built on GM's new compact platform. It'll also provide the base for the next-generation Astra, as well as the production version of GM's other Paris show car, the Chevrolet Orlando.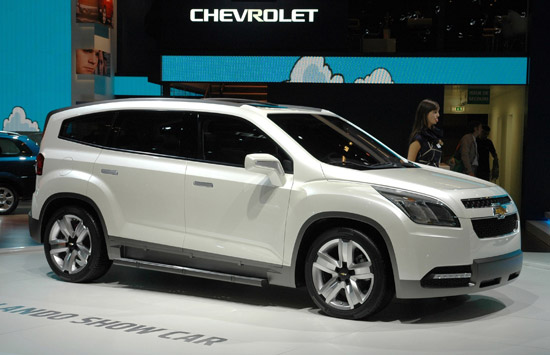 Orlando is a seven-seat compact MPV, and the concept on display was fully engineered. So while the real thing will probably lose the funky neon-outlined door handles and mirrors, it will retain the American-style SUV looks – something Chevrolet is keen to make the most of.
It'll share underpinnings with the Vauxhall Zafira, but GM is keen to keep the two cars' designs as far apart as possible. Indeed Orlando is likely to hit the market before the new Zafira – GM execs hinted at a full launch at the Frankfurt show in 12 months' time.