2012 Citroën C1 pricing announced
The newly redesigned 2012 CITROËN C1 will soon go on sale on the UK market in the beginning of April. The prices of the restyled model will begin from just £7,995. And more importantly, in orede to celebrate the New C1's launch, the brand has announced that all New C1 models will have a £1,000 Citroën Reward, which means that the price will be even more attractive and will start at just £6,995.
The first highlight about CITROËN C1 is that, as it is obvious, it is a compact, economical and ecological city car. Moreover the new 2012 model includes new features and optimizations, such as CO2 emissions of just 99 g/km, LED daytime running lights, a CD audio system with the brand's Connecting Box and an electronic gearbox system with steering wheel mounted paddles. It will be launched in both 3-door and 5-door guises. In addition boot volume can be adjusted thanks to a folding rear bench and ranges from 139 liters to over 700 liters.
The next thing to be highlighted here is that it spends just 4.3l/100km and does it with just 99 g/km of CO2! The new model is powered by a three-cylinder petrol engine which develops 68 bhp (92 kW). Moreover to bring more excitement to the driving experience, it is equipped with a manual gearbox which boasts improved fuel consumption and emissions performance and sets a new standard on environmental protection with 4.3 l/100 km over a combined cycle and 99 g/km of CO2. It is good to be noted that it is the first CITROËN petrol-engine car to emit less than 100 g/km of CO2. And for enhanced handling and driving comfort the new model is also available with an electronic gearbox system for enhanced handling and driving comfort. However, here the C1 1.0i EGS consumes 4.5 l/100 km and emits 104 g/km of CO2.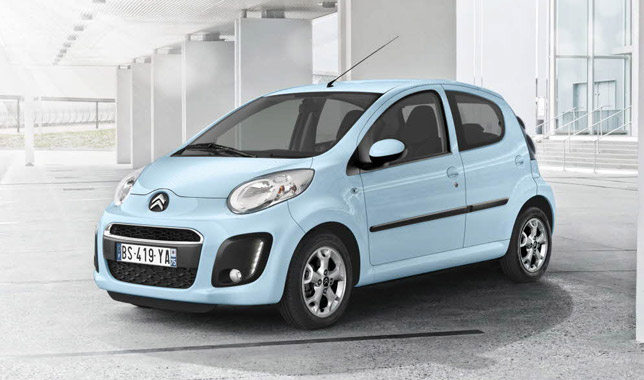 VTR versions add day-time running LEDs, air conditioning and electric front windows. Furthermore, VTR+ trim also includes 14" alloy wheels, Connecting Box (Bluetooth® & USB socket), front fog lights, leather steering wheel and dark tinted windows. The range-topping 5-door 2012 Citroën C1 VTR+, featuring Citroën's efficient Electronic Gearbox System with steering-mounted paddle controls, is priced at £10,545.
MODEL
ECONOMY (COMBINED)
CO2 EMISSIONS
1st YEAR VED
MRR OTR

PRICE

1.0i 68 manual 3-door VT
65.7mpg
99g/km
£0
£7,995
1.0i 68 manual 5-door VT
65.7mpg
99g/km
£0
£8,345
1.0i 68 manual 3-door VTR
65.7mpg
99g/km
£0
£8,995
1.0i 68 manual 5-door VTR
65.7mpg
99g/km
£0
£9,345
1.0i 68 manual 3-door VTR+
65.7mpg
99g/km
£0
£9,695
1.0i 68 manual 5-door VTR+
65.7mpg
99g/km
£0
£10,045
1.0i 68 EGS 5-door VTR+
62.8mpg
104g/km
£0
£10,545
Source: CITROËN