Citroen DS3 by Benefit Explores The Female Side Of The Range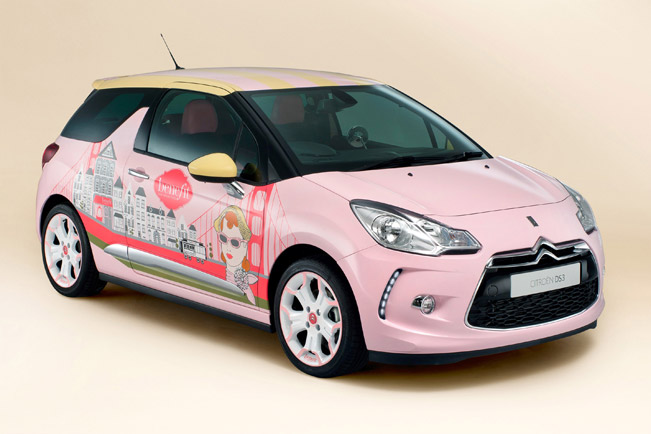 Have you ever wondered how the ultimate woman's car would look like? Well, Citroen and Benefit Cosmetics have the answer. Both brands have collaborated on a one-off version of DS3.
The colorful model is based on a range-topping DSport and is powered by Citroen's THP 155 engine. The exterior of the model is inspired by colours from the Benefit palette and features brand's signature pink and yellow 'Candy Stripes' motif and a graphic of the San Francisco skyline.
Everything in this car is made is stylish and even the alloy wheels exude a sweet candy-like character. They have been detailed in white and pink with the Benefit logo on the wheel rims, alongside the Citroen chevron centre caps.
The yellow wing mirrors harmoniously match the roof and give a slight contrast to the pink body. The same girlish design is transferred to the interior which has been upholstered in fine Italian leather with the Candy Stripe design on the seats, headrests and parcel shelf.
Pink detailing can be seen everywhere throughout the car, including the steering wheel, dashboard and centre console. There is also a "hello gorgeous" graphic on the passenger side of the dashboard.
In addition, in the coupe are featured bespoke LED lighting, luxurious deep pile floor mats with pink leather edging and Benefit 'Iconic words of wisdom' scatter cushions. Interesting feature here is the armrest, which has even been converted to house a custom makeup kit. Other highlights which will impress any woman include a handbag hook, fragrance dispenser, and an ornate vanity mirror emerging from the dashboard.
Source: Citroen