Citroen DS3 WRC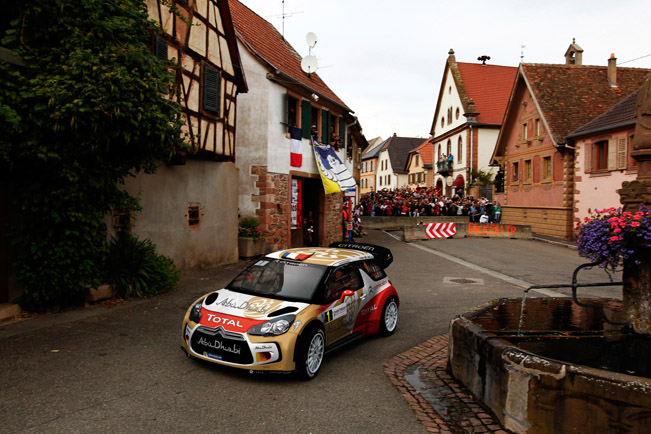 Citroen Racing and Abu Dhabi now takes real shape with the presentation of the racing programmes for the 2013 season. The Citroen Total Abu Dhabi World Rally Team's line-up for this year's FIA World Rally Championship will feature three crews: Mikko Hirvonen/Jarmo Lehtinen, Dani Sordo/Carlos del Barrio and Sébastien Loeb/Daniel Elena. Khalid Al-Qassimi will also be taking part in the majority of the WRC events, but will be competing first and foremost in the FIA Middle East Rally Championship.
"We are very proud to have forged a relationship with a partner that is as prestigious and dynamic as Abu Dhabi," commented Yves Matton, Citroen Racing Team Principal.
"Like our long-time partner Total, Abu Dhabi will be visible across all our 2013 programmes: on the works teams competing in the WRC and the MERC (Middle East Rally Championship), but also in the Citroen Racing Trophy held in the main countries in Europe. Together, we are also committed to establishing a rally driver development programme with Abu Dhabi Racing.", he added.
The eight-time World Rally Championship-winning works team – including five consecutive titles between 2008 and 2012 – will now be known as the Citroen Total Abu Dhabi World Rally Team. Three cars will compete at each of the thirteen rounds on the WRC calendar. Lining up in all of the events in the no.2 DS3 WRC, Mikko Hirvonen and Jarmo Lehtinen will be looking to win the Drivers' title.
"Now that I have my first season with Citroen under my belt, I feel ready for this new challenge," asserted the Finn. "I have been World Championship runner-up four times, so the next logical step is to aim for first place!"
The second DS3 WRC nominated to score points towards the Manufacturers' World Championship will be driven by Sebastien Loeb and Daniel Elena at four rallies.
"We'll start the season in Monte-Carlo and we'll also be competing in Sweden, because it's a rally that I would love to win in normal racing conditions. And I couldn't begin to think about missing the Rallye de France," confirmed Seb. Source: Citroen