2015 Civic Type R Presents Honda's "Other Side"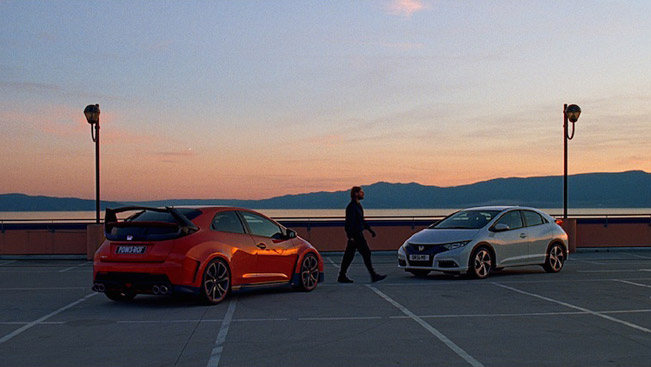 2015 Honda Civic Type R is probably on of the most anticipated cars these days. It is soon to be launched and for this reason the Japanese company has released an interactive online film yesterday, which brings to life the brand's "other side". And if you want to know what is it, then you'll definitely have to find out yourself. All right, all right, a spoiler here is that Honda's "other side" is born from a racing heritage and thirst for innovation. And this is what this campaign heroes.
The new Civic Type R will be the most extreme and high-performing wearing the 'Red H' badge. As the film hints, the car is the wild child alter-ego of the Civic hatchback. An this is how the high-adrenaline dual narrative begins. The story unfolds in two parallel tales, one set during the day and the other at night.
During the day, a father is picking his daughter up from school in his white Civic. He is driving her to a surprise party. As a contrast enters the night-time narrative, which shows the father's other side, which is an undercover cop driving a crew of art thieves to a police sting, in a head-turning red Type R.
The Other Side film opens with the Civic in the daytime. Then come titles prompting interaction as they roll. The person viewing all this can switch between the Civic and the Type R narrative, simply by pressing the 'R' button on their keyboard. In addition, the press of the 'R' button puts the director's cut into the viewers' hands. This allows them to switch in real time between two mirrored story lines
Source: Honda