D2Forged Audi TT-S XL3 Shows More Aggressive Stance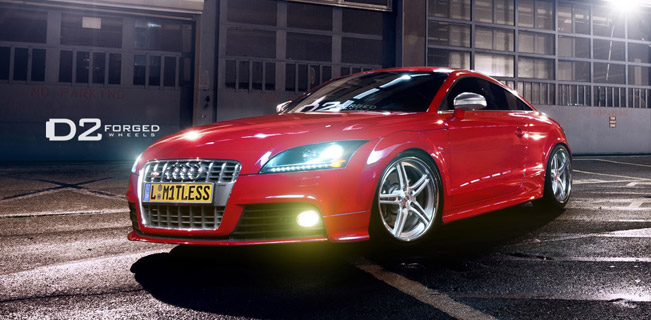 D2Forged Audi TT-S XL3 is another example of how a unique challenge can be conquered. The specialist from D2Forged Wheels had this custom wheel order where they had to bring out the true spirit of the popular Audi model.
The TT-S comes equipped with a powerful 2.0 liter TFSI engine, which helps the vehicle to generate 200 kW (272 hp). This catapults the Coupe with S tronic dual-clutch transmission from 0 to 100 km/h (62.14 mph) in just 5.2 seconds and on up to a governed top speed of 250 km/h (155.34 mph). The maximum torque here is of 350 Nm (258.15 lb-ft) and it is constantly on tap from 2,500 up to 5,000 rpm.
The huge calipers, high offset, the complex AWD system and dual clutch transmission of this Audi model fit perfectly to the stance and improved dynamic performance, which D2Forged Wheels have additionally given it.
The first challenge here was to match the caliper size and high offset. Here the perfect choice was to give the car a XL Series of D2Forged Wheels as they provide a 1.0″ deeper lip compared to the classic FMS Series profile and also yields increased caliper clearance.
A staggered outer lip and more aggressive stance were achieved via wider rear tires on the AWD system. Final details are: 19×9.0″ – 2.0″ for the front lip and 19×9.0″ – 3.0″ for the rear lip.
Source: D2Forged