Design Miami/ 2008: Spectacular venue for the Audi Q7 Coastline to "drop anchor"
Audi is the exclusive automotive sponsor for the third year running at Design Miami/, the leading global forum for high-end design. From December 2 through 5, the world's most influential dealers, designers, collectors, curators, and critics will meet here to celebrate the design scene's highlights at countless events. Audi is not only sponsor of the VIP fleet, but also – with the "Audi Coastline Marina" installation – a participating designer. During the same week, Audi will participate for the first time at Art Basel Miami Beach, a key U.S. art show. Audi will thus sponsor the two most important events for contemporary art and design.
In recent years, Audi has been making a name for itself with its design exhibitions: The installation for the Audi R8 super sports car, for instance, and the design laboratory which allowed visitors to experience the interaction between designers and the design process. The brand with the four rings will be inspired by this year's Design Miami/ theme: "Beyond organic: Design in the state of nature".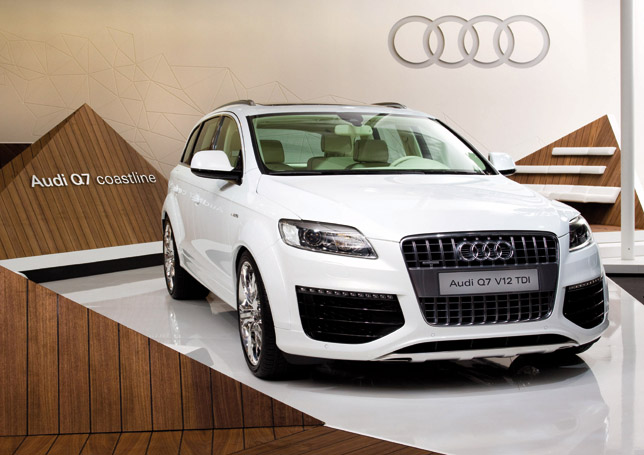 The "Audi Coastline Marina" installation will offer a modern interpretation of this theme. An outsize white lounge scene with white planks and palm trees conveys the beauty of a classic yacht in a Mediterranean setting.
Like a ship's gleaming white sail, an Audi Q7 Coastline in a special pearl white paint finish, Inuit, lies at the installation's heart. The wood and aluminum components in the vehicle's high-quality interior are reminiscent of hand-crafted luxury yachts and unite classic elegance with functional, sporty design.
"This installation reflects the poetry of motion: every line has its own meaning," explains Stefan Sielaff, Audi's Head of Design. He then stresses:  "We transform function into an elegant experience."
When it comes to design, Audi sets trends in the automotive sector. In part, this is most certainly due to the creative atmosphere at the Audi design studios: the Design Center in California (DCC) and the design studios in Ingolstadt and Munich. Designers at these locations translate their newest inspirations and ideas into pioneering innovations. Among other things, the DCC created the Audi Cross Cabriolet quattro, a design study, and stands for visionary concepts of mobility.
Audi has also blazed new trails with regard to lighting design. The lighting installation "Daedalus" is a collaborative effort with Ivalo Lighting, an American design studio. The elegant, helical chandelier consists of glass blades in a feather-like configuration and bathes its surroundings in an enchanting and evocative light. The joint project sought to present light as a source of emotion in a residential setting as well as a vehicle's interior.  "The DCC devotes itself to the future. We examine the latest trends – not only in the United States but also in Asia," explains Jae S. Min, Chief Designer at Audi's Design Center in California. "Even projects which are still just visions evince the crucial role which design plays in creating sustainable and responsible solutions."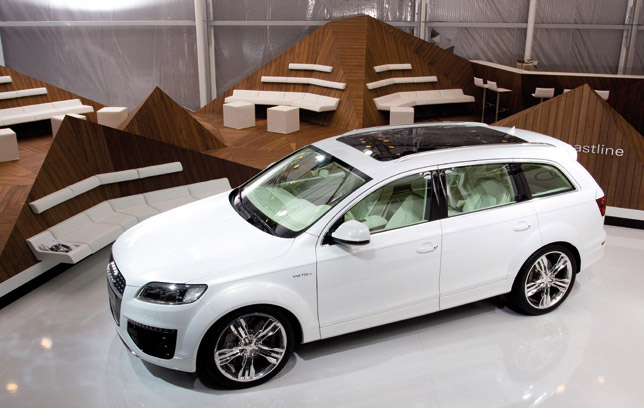 During Art Basel Miami Beach and Design Miami/, a fleet of 70 Audi vehicles will whisk guests from one event to the next. The fleet will feature seven Audi Q7 TDI SUVs, powered by the world's cleanest diesel engine.  The TDI with ultra low emission system demonstrated its fuel efficiency this fall at the Audi Mileage Marathon. During some 8,000 kilometers (4,970.97 miles) from New York to Los Angeles, 23 Audi vehicles achieved remarkable fuel-efficiency figures. An Audi A4 3.0 TDI quattro performed best by averaging fuel consumption of just 5.3 liters per 100 kilometers (44.38 miles per U.S. gallon). And the new performance SUV Audi Q5 3.0 TDI required just 6.1 l/100 km (38.56 miles per U.S. gallon).
The Audi Q7 3.0 TDI with ultra low emission system also passed the endurance test with flying colors. It averaged better fuel consumption than ever before: just 7.1 l/100 km (33.13 miles per U.S. gallon). The ultra low emission system removes up to 90 percent of nitrogen oxides from exhaust emissions. This technology plays a significant role in ensuring that the Audi Q7 3.0 TDI complies with the world's most stringent emission standard: California's ULEV II BIN 5. Vehicles with this engine and the ultra low emission system already meet the emission limits of the EU's Euro 6 standard, which will not become law until 2014! The new 3.0-liter (183.07 cubic inches) V6 TDI proves that TDI technology has a very bright future.
To fulfill its philosophy of acting responsibly and encourage the preservation of cultural heritage, Audi is committed to actively participating in regional projects.  The "Re:design Simpson Park" project is but one example of this dedication.
As a sign of gratitude to Design Miami/ for its years of commitment, the park's badly neglected vegetation has been transformed into a verdant oasis within the urban jungle to benefit residents. In conjunction with Miami's mayor, Manny Diaz, Simpson Park will be ceremoniously re-opened at a small celebration during Design Miami/.
Simpson Park was established in the early 20th century, only to be gradually forgotten over the years. Audi has been the main sponsor of this project. More specifically, Audi has funded a new entrance area which will encourage visitors to relax and learn from nature. Famous Italian landscape architect Enzo Enea and Chad Oppenheim, Miami's leading architect and project initiator, oversaw the creative aspects. Enea Design contributed plans for future park improvements; Chad Oppenheim drafted a spectacular design for the park's new entrance.